Thousands join protest in Spain's capital
By Jonathan Powell in London | chinadaily.com.cn | Updated: 2023-11-20 02:05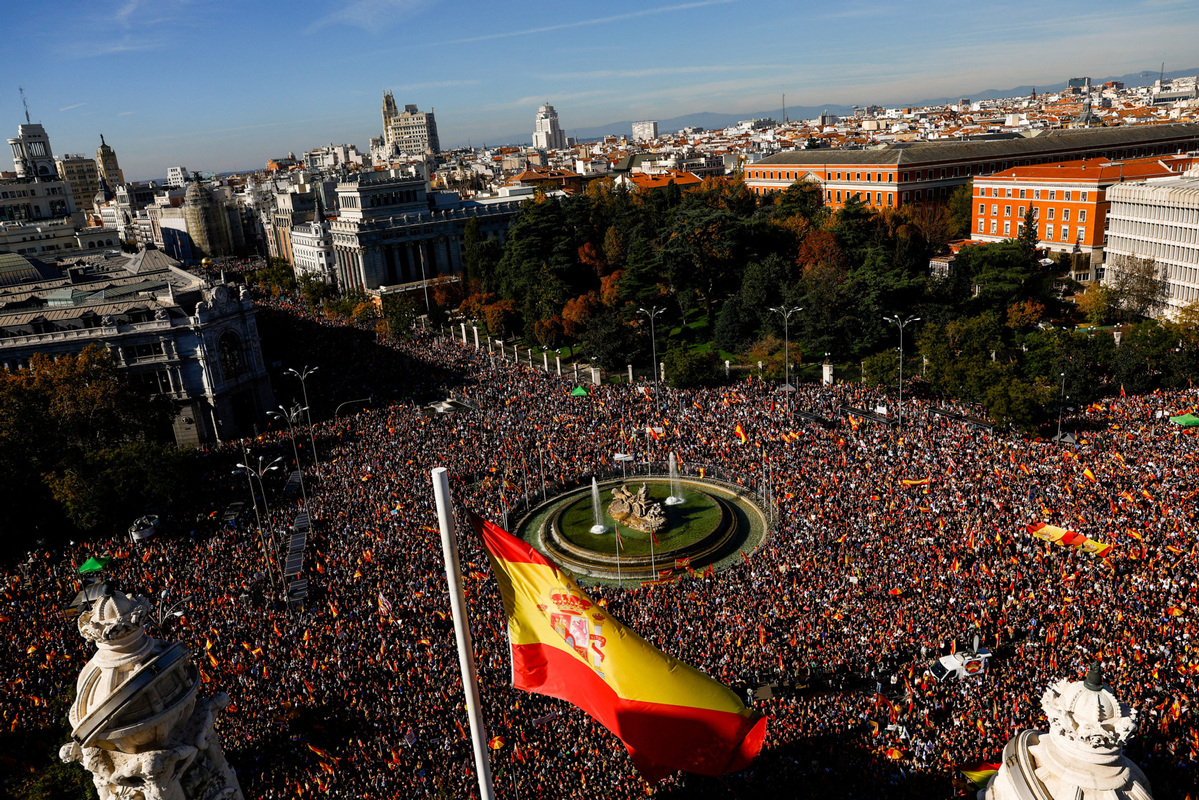 ​Around 170,000 people gathered in the Spanish capital Madrid on Saturday following a call from rightwing leaders for a protest against the Catalan amnesty law, a controversial political move that has enabled Prime Minister Pedro Sanchez's Spanish Socialist Workers' Party to form a government for a second term.
In power since 2018, Sanchez managed to secure his reinstatement after coming second in the July parliamentary elections, in which he trailed behind rightwing leader Alberto Nunez Feijoo.
Sanchez was officially sworn in on Friday, marking the end of a four-month political stalemate that left the nation in a state of uncertainty with a hung Parliament, following the inconclusive election.
Support from Catalan and Basque nationalist parties was key to his ability to secure power, and was gained by the adoption of an amnesty bill for separatist leaders and activists prosecuted for their involvement in Catalonia's 2017 secession attempt.
Judicial associations, opposition political parties, and business leaders have argued that the amnesty legislation undermines the rule of law and the separation of powers.
The protesters in Madrid waved Spanish flags and carried signs that read "Don't sell Spain", according to the Reuters news agency.
Nunez Feijoo, leader of the opposition conservative People's Party, along with Santiago Abascal, the leader of the far-right Vox party, joined protesters at the march.
"They know they don't have the votes to do what they're doing. That's why we're telling them with this demonstration," Feijoo said. He also accused Sanchez of pitting Spaniards "against each other".
Sanchez has said the amnesty would help to defuse tensions in Catalonia.
The amnesty is the first to be approved in a European Union nation since 1991, reported Reuters.
It aims to cover about 400 individuals who participated in the 2017 independence bid by the region of Catalonia, an event that led to an illegal referendum according to the courts and that sparked Spain's most significant political crisis in decades.
Since the announcement of the amnesty bill, protesters have staged demonstrations outside the Socialist party headquarters in Madrid for 15 consecutive nights. They have been mostly peaceful but have been interspersed with clashes that have left both officers and demonstrators injured.
A Metroscopia survey in mid-September found roughly 70 percent of respondents, including 59 percent of Socialist party supporters, expressed opposition to the amnesty idea. Metroscopia is a market and opinion research company in Spain.
In early November, the EU called for clarification from Madrid on the move, saying it had "been contacted about the issue by a large number of citizens" seeking an explanation for the bill.