Filoli summit redefines China-US ties
By Jia Wenshan | CHINA DAILY | Updated: 2023-11-21 07:12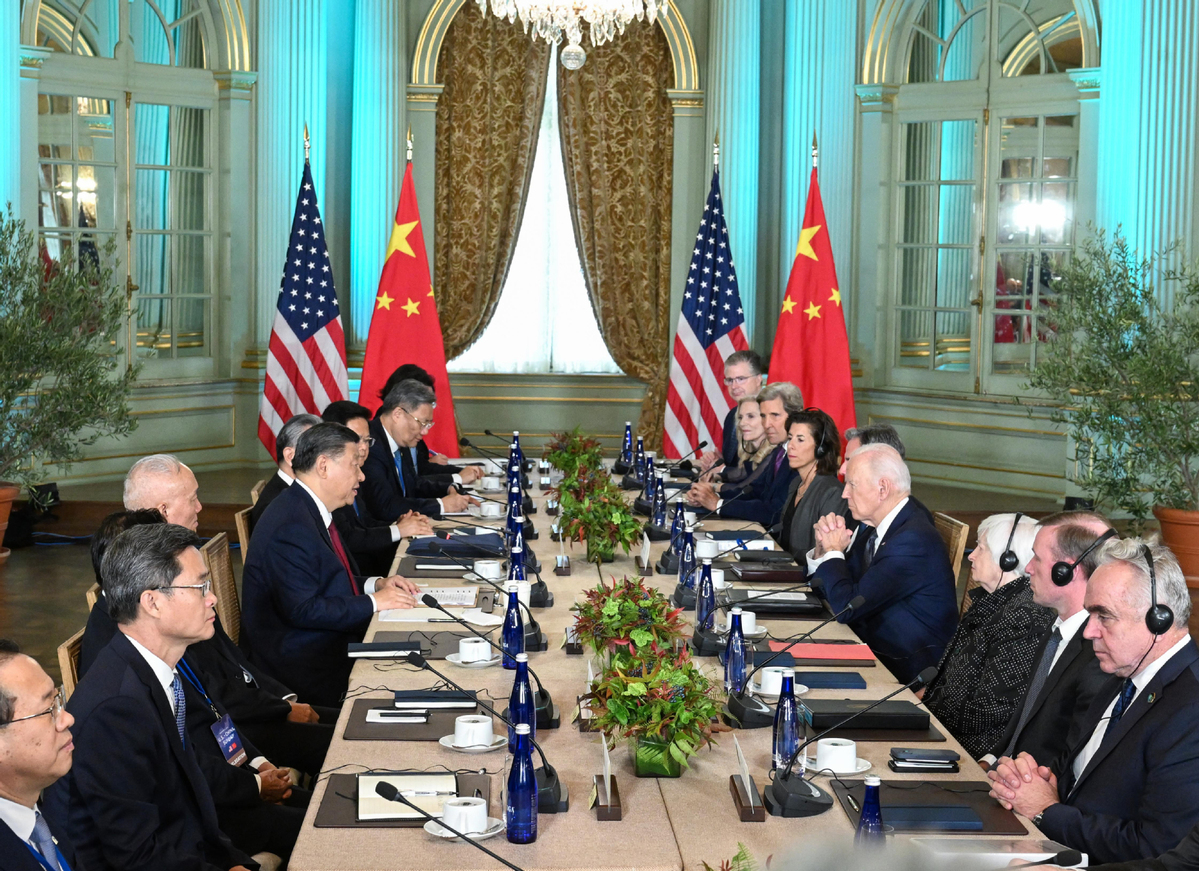 Expectedly, the summit between President Xi Jinping and US President Joe Biden towered over the APEC Economic Leaders' Meeting in San Francisco in terms of impact.
If the slogan "it all starts here", as the City of San Francisco asserts, is true, the China-US presidents' meeting will prove to be a good start for both the United States and China, from keeping San Francisco, a genuine Asia-Pacific city, free from homelessness, to spurring economic growth in the Asia-Pacific Region and beyond.
In the run-up to the APEC meeting, San Francisco rid its urban areas of homelessness to portray a better image of California and the US before APEC 2023 attendees, which is obviously not a sign of "the position of strength" in US diplomatic discourse, but a sign of its internal weaknesses because of the US' global overreach and poor domestic governance.
The Filoli summit, it seems, was meant as an important step following the two leaders' summit on the sidelines of the G20 Summit at Bali, Indonesia, a year ago, to cut the excess of competition. It privileges communication and cooperation. This should have happened much earlier, particularly because the US and China structurally embody two vastly different civilizations and inevitably find themselves at odds with each other in many ways.
However, they are also finding themselves entangled in a comprehensive and complex web of interdependence on almost all fronts. As a result, communication is vital for clarifying confusions, minimizing conflicts, reordering competition, and harnessing the powers of cooperation.
In this sense, the Filoli summit will, in most likelihood, be remembered as a summit of metacommunication, or a summit of communication to design and build a new and comprehensive strategic architecture of US-China communication.
From the angle of communication, the US-China relationship is not static and helpless beyond human control. It may exhibit a proclivity toward competition, conflict, even confrontation. Therefore, a newer, more rigorous and more resilient structure of strategic communication and cooperation must be installed to proactively resist and even adjust such a proclivity so that a balance between competition and cooperation can be maintained.
A strategy has underwritten the Biden administration's policy toward China, overemphasizing competition and confrontation against China over communication and cooperation with China. China, on the other hand, has been prioritizing connectivity and communication of all kinds such as political, infrastructure, finance, trade, and cultural with the rest of the world, especially with the Global South via the Belt and Road Initiative. Consequentially, China has been winning more friends around the world and has multiplied the opportunities for mutual gains. It is in this context that Biden's goal for his summit with Xi was to get US-China communications back to "normal" so that the US would not fall behind in benefiting from full engagement with China.
Xi's all-under-heaven or all-inclusive approach, which Biden seems to have echoed in some instances and to some extent at Filoli, seems to underwrite US-China strategic communication so that US-China relationship can go back on a more stable and predictable path of mutual respect, mutual affirmation, and mutually fruitful cooperation in the foreseeable future. This stable and predictable relationship will benefit both the US and China, all members of APEC, and the rest of the world. Xi's reiteration that the world is big enough for both the US and China to fulfill their dreams as well as benefit the world through mutual collaboration has earned appreciation from a wider US, APEC, and world audience.
Obviously, the US and China, with a combined economy of 40 percent of the world's GDP, cannot afford to be at loggerheads in all things anymore, as it has not only been hampering the economic growth of both countries, and of all other APEC members, but also of the rest of the world. The only way out of the dead end is to genuinely adhere to the three principles for US-China relationship: First, mutual respect; second, peaceful coexistence; third, win-win or mutual gains through communication and cooperation. To measure the success of the Filoli summit meeting is to measure to what extent these principles are adhered to in actual practice. Let's watch how the new infrastructure of communication and cooperation will chart the trajectory of US-China relationship, weather possible storms, and pave the way for world peace and development in the years ahead.
The author is a professor at Chapman University, and a distinguished adjunct professor at Shandong University. The views don't necessarily represent those of China Daily.
If you have a specific expertise, or would like to share your thought about our stories, then send us your writings at opinion@chinadaily.com.cn, and comment@chinadaily.com.cn.