Medical brands garner eyeballs
By ZHOU WENTING in Shanghai | China Daily | Updated: 2023-11-21 09:25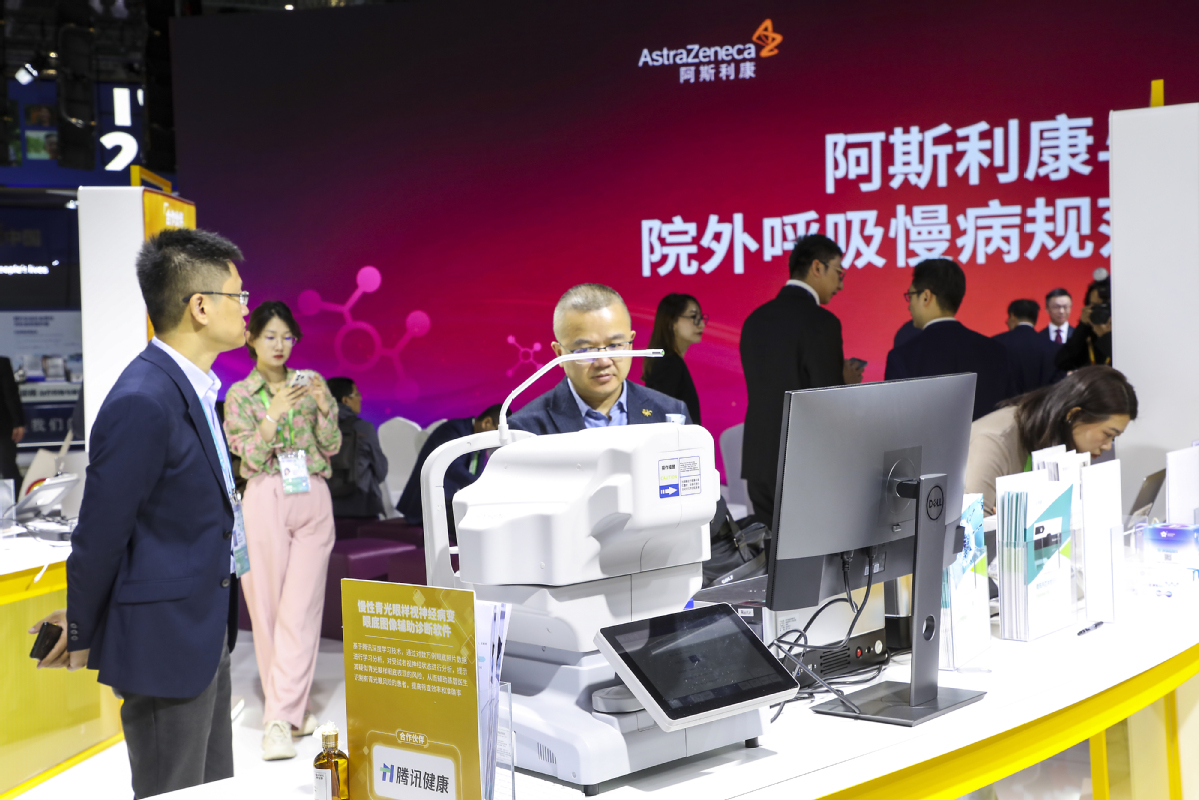 CIIE turned into platform for links between local, global healthcare firms
Chinese medical brands looking at international forays attracted much attention during the recently concluded sixth China International Import Expo, which became a platform for the local healthcare system to be connected to global resources.
Since 2021, an innovation incubation zone has been a feature of the medical exhibition area of the CIIE. This has convened stakeholders from government, investment circles and industry to accelerate the use of innovative drugs by Chinese patients and assist local research and development institutions to participate in international events and keep pace with the latest global technologies.
"Nowadays, many multinational companies have reached a stage of reverse innovation, which means that an innovation from China has become a technology that the world desires," said James Deng, global senior vice-president of US-based medical technology company BD, and general manager of BD Greater China.
He gave the example of a medical device proposed by Chinese doctors to improve operations during liver surgery. The device helped shorten the duration of surgery and enhanced its success rate, with fewer side effects, Deng said.
"When the device — derived from Chinese surgeons' wisdom — was produced, the first market that showed interest was the United States. The product was developed and manufactured in China and sold to international markets," he said.
"The device was of great value as many suffering from such liver diseases are young and middle-aged people from rural regions. The patient's health recovery often means that the entire family can keep on the right track," he said.
BD inaugurated its BD Greater China Innovation Center, the company's first digitalized comprehensive innovation center in China, in Hangzhou, Zhejiang province, in July. Combining the company's innovative design and multifunctional lab facilities in Shanghai and Suzhou, Jiangsu province, all efforts are aimed at further strengthening the R&D capability of BD and its partners and accelerating local innovations, said Deng.
"Another advantage of China is that the country's regulatory system and capital are also speeding up to support healthcare innovations. The acceleration of approvals for medicines and medical equipment over the past five years has been unprecedented," he said.
German healthcare equipment provider Siemens Healthineers set up its production and R&D center in Shanghai three decades ago, and was one of the first CT providers manufacturing CT scan equipment in the country.
"Throughout the past 30 years, local innovations in China have been promoted and incubated. Now much of our supply chain has been localized, including some core components, such as CT and X-ray detectors and sounders," said Wang Hao, president of Siemens Healthineers Greater China.
The integration of medical and engineering expertise will be the orientation for China's medical innovation for the next phase, Wang said.
Such trends are already happening in Silicon Valley and Boston, where doctors, engineers, healthcare businesses and investors are grouped to promote sci-tech breakthroughs that go on to become products of high value, he said.
Assisting local innovations to find a place abroad was also one of the highlights for AstraZeneca at the sixth CIIE.
"Helping local Chinese enterprises go global can also play a role in feeding back AstraZeneca, allowing us to have the innovation power both from the East and West so that we can continue to make progress in new drug R&D," said Leon Wang, executive vice-president of AstraZeneca.
Taking advantage of AstraZeneca's international resources and experience, the company has led 29 Chinese biotech enterprises to Brazil and the Middle East for exchanges and cooperation this year, and is scheduled to take them to other countries and regions, including Indonesia and Russia, in the near future, he said.
At this year's CIIE, the Brazilian unit of AstraZeneca reached a cooperation deal with a subsidiary of Shandong province-based Luye Pharma and Brazil's Herbarium to jointly promote the registration and commercialization of the Chinese company's capsule, which is used to regulate blood lipid levels, in Brazil.