Loving 72-year-old inventor inspired by wife
By Liu Dong | chinadaily.com.cn | Updated: 2017-07-04 14:49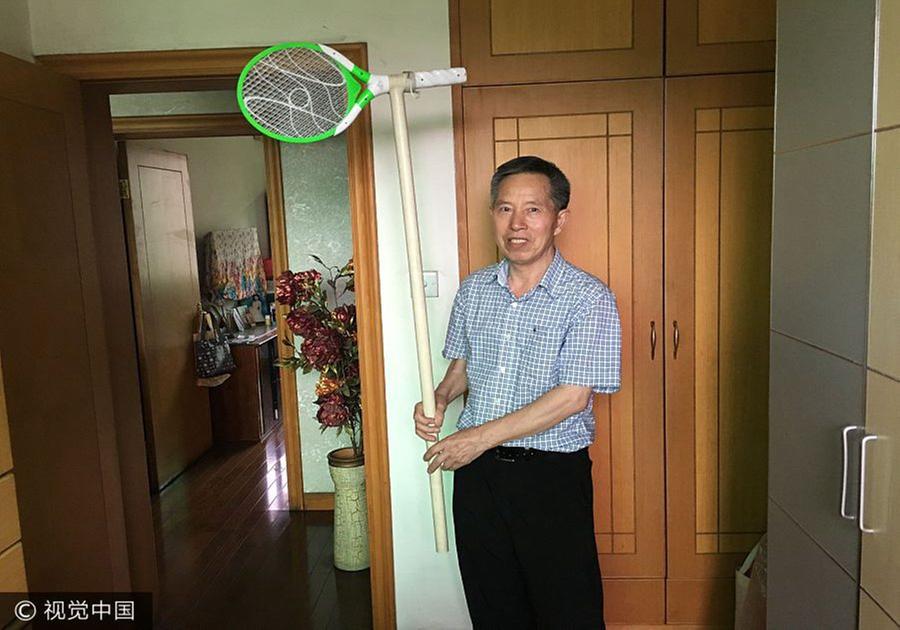 Chen Guomin poses with his invention. He has applied for five national patents.[Photo/VCG]
Bedside alarm for sick wife
Born in Shanghai in 1945, Chen Guomin was admitted to the Shanghai Railway Institute in 1962, specializing in communications. After graduation in 1966, Chen Guomin left his hometown to work on the Chengdu-Kunming railway construction project. He has been awarded the scientific progress award from the Chinese Academy of Railways and worked as a railway communication engineer at Chengdu Railway Equipment Co up until he retired.
Li Zhiying, who worked in the same unit with Chen, fell in love with him. They got married in 1975 and became a model couple at the factory. "He is a typical good Shanghai man, cultured, never talks loudly, and we never quarrel in 42 years," Li says.
At Li's bedside is a small machine shaped like a bottle. It's an alarm invented by Chen who was worried about his wife's health.
"My wife has a bad heart and has to stay in bed often. We live in two separate rooms, I am worried about her always for fear that she is unable to call for help when feeling uneasy. I made this emergency call machine with pill bottles and circuits, she only needs to press the button when feeling sick and an alarm will ring. We can now rest easy," Chen says.
Chen is very thoughtful and meticulous when it comes to his wife.
"When I want to take a bath, he will prepare bath towel, bath lotion, shampoo, pajamas, slippers in advance for me and adjust the water temperature. He only lets me in when all is ready," Li says.