China's 'barefoot' African doctor to take TCM to Africa
Xinhua/chinadaily.com.cn | Updated: 2017-10-26 10:54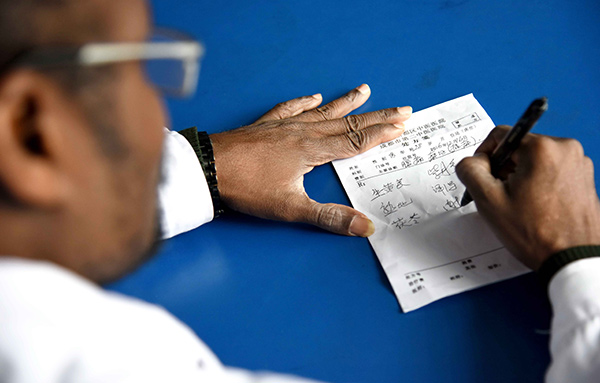 African doctor Diarra Boubacar writes out a prescription for a patient at a traditional Chinese medicine hospital in Chengdu, Southwest China's Sichuan province. [Photo/Xinhua]
"AFRICAN NORMAN BETHUNE"
Due to his work in the community, where he has also been training village doctors in TCM, Boubacar is also known as "China's barefoot doctor" and the "African Norman Bethune."
Doctor Bethune was a Canadian frontline doctor who ran mobile hospitals in north China in the 1930s.
Boubacar's contribution has been recognized by the Chinese authorities. He has been awarded by the local government of Yunnan and hailed as one of China's top 10 humanitarian workers in a public vote organized by a Chinese TV channel. In 2013, he received a national award from Premier Li Keqiang.
Buoyed by his medical expertise, experience, and the connections that he has built up in China, he has a dream. For 10 years he had been dreaming the dream but finally, it is on solid ground.
"I want to have this big center," he described his vision. "I want to (build) not only a hospital but also an educational center where people can come and learn about Chinese medicine."
The center, besides combining a hospital and a teaching institution, will also have a facility for advanced research into both TCM and African herbal medicine. Boubacar has been networking with 15 African doctors studying in China and is hopeful they would be part of the project.
He is also looking for investors, in China and elsewhere. This dream, he says would not have been born if he had not come to China.
"All these years in China, I learned a lot," he said. "I am very thankful and grateful to my teachers ... Now I have got enough resources and enough knowledge. I will be able to go back to Africa and start this project."
He plans to start on a small scale and will be training doctors in Africa like he did in rural China. "If they learn TCM, they will be able to treat people in Africa in a very cheap and effective way," he said.
TCM has received global attention after the Chinese government's vigorous promotion, followed by Chinese pharmacologist Tu Youyou receiving the Nobel Prize in Medicine in 2015 for her formulation of a cure for malaria from ancient Chinese medical texts.
The rise of TCM on the international stage inspires him. "Chinese medicine has become more and more well-known in the world. We have this new initiative. It's time now to do it," he said.