Showcasing a rich heritage
By Wang Kaihao | China Daily | Updated: 2018-03-13 08:37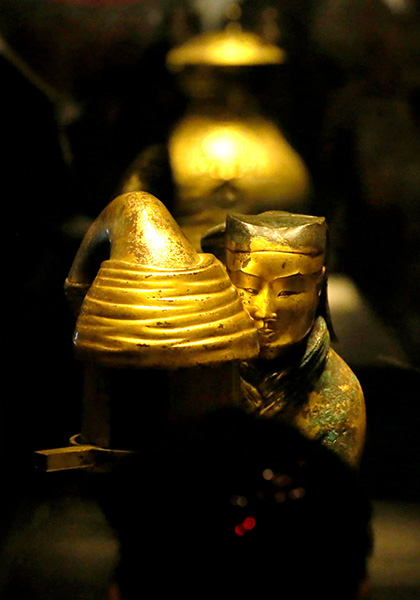 Wider attention
Over the past five years, museums which previously did not attract much media attention have been increasingly placed in the spotlight.
For instance, there have been reports of long queues - even overnight ones - of visitors waiting to catch a glimpse of several important ancient Chinese paintings like Along the River During the Qingming Festival and A Panorama of Rivers and Mountains, when they were exhibited at the Palace Museum.
National Treasures, a TV show about 27 cultural relics from nine Chinese museums - has gone viral.
At the same time, the three-episode TV documentary Masters in the Forbidden City has turned relatively unknown cultural relics restorers into superstars.
Ma Xiaolin, director of the Henan Museum in Zhengzhou, and one of the nine participants in National Treasures, says: "The items which appear in the shows are now the stars. We cannot simply put labels in front of the exhibits. A museum must do more work."
Consequently, exhibitions are being designed in more approachable ways.
For instance, in the Palace Museum, general displays of its Chinese paintings are being replaced by exhibitions on specific themes. Many smaller local museums are working with the bigger ones on touring exhibitions based on specific topics and stories.
Speaking about the new focus for museums, An says: "They can put their collections, exhibitions, education programs and social activities all in one place. This provides the general public with an opportunity to appreciate and understand the significance of the cultural heritage, and focus on creativity at the same time."
Ma, who also wants exhibitions to focus on children, says: "Students often tell me that they are terrified by some of the artifacts (referring to jinlyu yuyi - a suit of burial clothes made of jade and sewn with gold wire).
"This should prompt us to do more work, and make our exhibitions more approachable," he says.
He Yun'ao, a professor of history at Nanjing University, in eastern Jiangsu province, says museums and exhibition halls, which are designed for children, will be a focus in the next phase of development.