From maps to apps
By Xu Lin | China Daily | Updated: 2018-04-16 07:55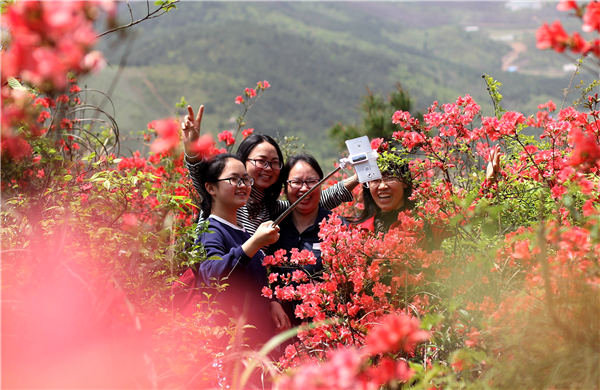 A growing number of Chinese are using online tools to guide their travels.
Chen Chen will travel to Japan this month. She used apps to book air tickets and hotels, read travel tips and make a reservation at a Michelin-starred restaurant.
The Beijing office worker plans to read novels on her phone while waiting for her flight, use a translation app to order food and ask for directions, and use another app to identify flowers.
"Such mobile apps make independent traveling convenient," Chen says.
"But you shouldn't spend too much time on the apps. It's more important to truly experience the moment and local life."
She enjoys using aiPlants, which can identify over 10,000 common plants from photos taken by users with 85 percent accuracy. It also provides encyclopedic information on the plants from the database of the Chinese Academy of Sciences' Institute of Botany. People often use the app at such attractions as scenic areas, botanical gardens, parks and nature reserves.
Chen is among a growing number of Chinese who increasingly use a growing number of apps to travel independently.
More than 85 percent of the subjects constantly use their phones while traveling - that is, an average of six hours a day, according to a recent report Chinese tourism website Mafengwo released with five app providers about how Chinese use apps during trips.
The results are based on data from about 3,500 subjects born in the 1980s and 1990s, 65 percent of whom are women.
"The report tells us about users' behaviors and preferences," Mafengwo's travel research center head Feng Rao says.
"For example, we can use big data to recommend museums, galleries, exhibitions and related products to users who enjoy culture and history."
Related Stories