E-sports players chase dreams of stardom
By Aska Cheong in Hong Kong | China Daily | Updated: 2019-02-11 07:19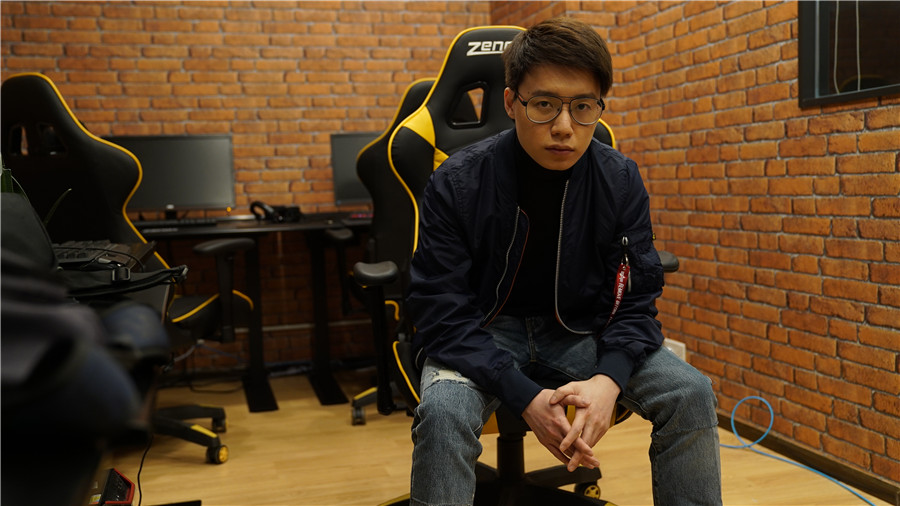 Subsidies planned
Hong Kong's first e-sports festival was staged by the city's Tourism Board in 2017. The special administrative region's government has realized the investment value in e-sports, earmarking HK$100 million for the industry in the 2018-19 budget. Half of this amount will be used to build an e-sports competition venue at Cyberport, a technology incubator.
The government plans to subsidize competitions to the tune of up to HK$500,000 and will make Cyberport available for such activities free of charge.
The Hong Kong Legislative Council is considering an amendment to the Amusement Games Centre Ordinance that exempts game centers from police action over licensing.
Compared with Lau's achievement becoming a world champion in League of Legends in 2012, when most people in Hong Kong had no idea what e-sports were, LoTsz-kin's championship triumph in the computer card game Hearthstone at the Asian Games in Jakarta, the Indonesian capital, last year drew widespread acclaim.
There are more than 300,000 e-sports players in Hong Kong-93 percent of them male, and 55 percent ages 18 to 21, according to research by City University of Hong Kong. The research also found there were only 50 e-sports professionals working and training in the city. Salaries of professional players range from HK$5,000 a month to HK$25,000.
The most popular e-sports games globally include Dota 2 (Defense of the Ancients), Counter-Strike: Global Offensive, Fortnite and League of Legends. Players in the Dota 2 international tournament last year in Vancouver, Canada, competed for prize money totaling $25 million.
A 23-year-old e-sports player in Hong Kong, who uses the name BlackWai, said many observers equate computer gamers with losers, but he countered this by saying that the competitors train professionally.
"There are daily routines and goals for our training. We have to get a certain amount of points and destroy a set number of enemies in play. If we fail to reach the targets, we might be criticized by our coach. We treat e-sports seriously. Only when we train systematically can we hope for good results in competition," BlackWai said.
E-sports, which involves playing computer games each day, might not be as easy as some may imagine. BlackWai came under severe pressure after reaching his goal of becoming a professional player competing in the game PlayerUnknown's Battlegrounds, also known as PUBG.
He said: "We took part in competitions, but we were not satisfied with the results. There were times when we almost cried after dedicating ourselves to practicing for a long time. Sometimes we forecast that we would win, but failed in the end. The greatest pressure came from the fear of letting teammates down and failing ourselves."
After sitting at a computer and concentrating on computer games from 2 pm to 10 pm every day in a gaming studio in Hong Kong, Black-Wai gained just over 9 kilograms in his first year of training. Teams from the Chinese mainland, Hong Kong and Taiwan were usually paired up for practice sessions each day.
Despite putting in tremendous efforts, the team lost in the PUBG regional competition in December. BlackWai described this as a turning point in his life, as he had missed the chance of becoming a star. If the team had won, it would have represented Hong Kong in the world championship.
Like Toyz, BlackWai was not interested in furthering his education, and worked as an aircraft maintenance mechanic for five years after high school.
He devoted most of his leisure time to gaming and won some e-sports prizes before being invited to become a professional player in February last year. He said he felt lucky when his parents supported him in pursuing his dream.
E-sports players start at age 16 and usually retire when they turn 25, as their hand-eye coordination fades and their reflexes become slower.
E-sports teams are always hiring and firing. Once a player fails to excel in competition or does not cooperate with his teammates, his services are dispensed with.
For example, take the G-Rex League of Legends team, which was launched in September 2016. It currently has seven members, and nine players have been sacked in the past two years. Also, the Hong Kong Attitude team, which was established in March 2013, has six players on its roster, while 26 have terminated their contracts or been fired in the past six years.
Players are only one component of the industry. A large proportion comprises management boards, sponsorship companies, producers of events, e-sports livestreaming platforms, marketing companies and game analysts.
A player who is fired can join a new team, if he is lucky. Players who have retired can land jobs related to e-sports, while some even turn to YouTube, cashing in on the fame and the fan bases they have acquired.
Related Stories