Appetite for fantasy, sci-fi
By Mei Jia | China Daily | Updated: 2019-04-12 07:53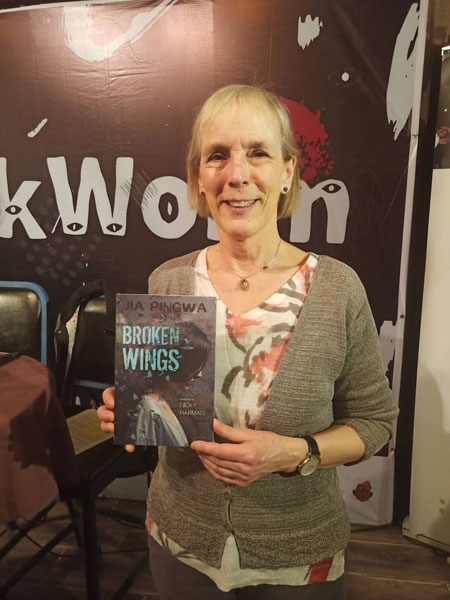 The plot may not be to everybody's liking, but it addresses a significant topic-crimes exist-and Jia's writing is multilayered and reveals the complications under the surface, she says.
For younger readers' delight, Web Novel, an affiliate of China Literature Group, arranged two seminars during the London fair, discussing their approach of generating quality online novels and turning them into more products, such as video games, TV series, movies and animations.
Web Novel has more than 16,000 international authors, who create 23,000 original novels in English, as well as 200 translators to present 300 serial novels translated from hit Chinese works.
At the London fair, the platform presented an original story by a college student from the United States, entitled Reborn: Evolving from Nothing. The series written in English is in progress and had 9 million "hits" by mid-March. It is written with references to Chinese culture and traditional tales.
Jacks Thomas, director of the London book fair, told Xinhua that China's participation in the book fair is also essential to Britain's publishing market.
"The number of Chinese exhibitors is always in the top 10, and it has been that way in the past three years. We are absolutely delighted with that," Thomas says, adding that some of her colleagues are picking up Mandarin to enhance communication with Chinese publishers.
Other notable titles released at the LBF 2019 included the first batch of four books of Key Concepts in Chinese Thought and Culture in English by China's Foreign Language Teaching and Research Press and Palgrave Macmillan. The Core Values of Chinese Civilization, written by Chen Lai, dean of the Academy of Chinese Learning at Tsinghua University, has been printed by SDX Joint Publishing and Springer Nature.
Sara Crowley-Vigneau, an editor with Palgrave Macmillan, says: "At a time when the understanding of different histories, languages and cultures globally is at a premium, these series provide a valuable roadmap to the concepts which underpin 21st-century Chinese society."
Holmwood may feel the same. After spending a decade specializing in selling rights and translating across cultures, she decided to step forward and start a publishing company herself, aiming to publish topquality Chinese works in the UK and the rest of Europe.
"I can see the audience is out there," Holmwood says.