China's new flower haven
By Liu Weiling and Xing Yi | China Daily | Updated: 2020-10-16 08:10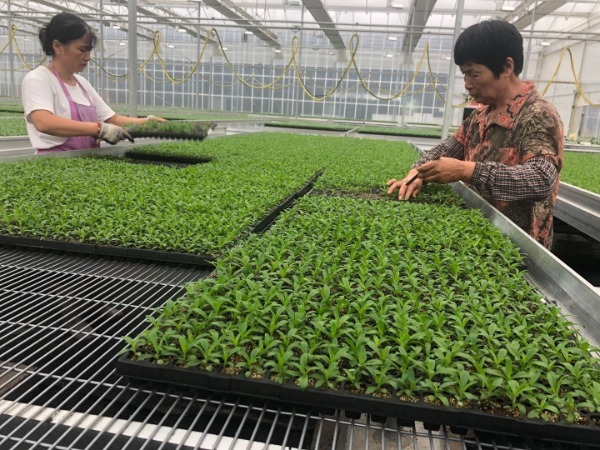 According to local officials, the district government and the company are planning to build an international flower trading center in the Miaozhen township in the future. There are also seven major flower-related projects with a total investment of 2.5 billion yuan ($373 million) that are currently under construction on the island.
"The flower industry will be an important part of Chongming's future development," said Miao Jing, governor of Chongming, during a news conference on Sept 24.
"We will strive to further optimize the industry layout, increase the investment in research and development of modern flower planting technologies, and foster a complete flower industrial chain that includes production, processing, services and trade."
In its spatial plan for the flower industry, the district government has divided the long and narrow island into three areas-west
Central segment
The middle portion, which houses the Dongping National Forest Park and will be the site of the 2021 China Flower Expo, will focus on general flower production, sightseeing and tourism.
Chen Qun, director of the general office for the flower expo's organizing committee, says the venue will be designed to resemble a butterfly flying towards a peony when all construction work is completed by the end of this year. The 42-day expo next year, he adds, is expected to attract 3 million visitors and bolster Chongming's reputation as a flower island.
In the nearby Gangyan township, the Shanghai Chongming Smart Ecological Flower Park was the first major flower industry project to be approved after the island won the right to host the flower expo two years ago.
Covering 20 hectares, the park was created using a 220-million-yuan investment by Shanghai Yuanyi Seedling Co. The area features a conservatory with an automated factory for seedling production and an outdoor area for horticulture display.
Jiang Wu, assistant to the general manager of the company, says the factory can at full capacity produce 400,000 seedlings in a day. For next year's expo, the factory will supply more than 120 kinds of flowers.
"We have also been actively fostering local companies along the industry chain by providing them with advice on planting techniques," says Jiang.
"We hope the park can attract more tourists to visit Chongming and bring more income for the local residents."