China's new flower haven
By Liu Weiling and Xing Yi | China Daily | Updated: 2020-10-16 08:10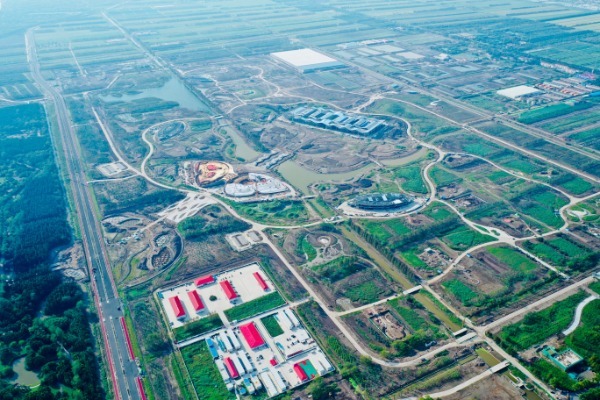 Western segment
Over the western part of Chongming, the production of special flowers with higher value, such as saffron crocus and anthurium, will take center stage.
"Saffron came to China first through the Tibet autonomous region, and therefore it got the Chinese name Zanghonghua, or Tibetan red flower. Today, however, around 70 percent of saffron in China are produced on Chongming," says Su Dengke, technical manager of Shanghai Traditional Chinese Medicine's saffron production branch in Chongming.
The company, which is a subsidiary of Shanghai Pharma Group, imported the technology that allows for the large-scale planting of saffron crocus in 1979. It then built its production site in the island's Jianshe township. The company presently has a demonstration production base of 16 hectares on Chongming.
"In the next five years, the company plans to expand the base and increase production to one metric ton of saffron per year," Su says.
The company has also developed derivative products, such as saffron facial masks and saffron tea bags. The sales of such facial masks hit 20 million yuan last year, he adds.
Eastern segment
The eastern part of the island will focus on the production of tree seedlings and the narcissus flower.
In Yuanyi Cun, or Horticulture village, villagers have been planting boxwood in large scale for more than two decades. Presently, more than 85 percent of the 790 households in the village cultivate around 66 hectares of boxwood trees that generate an annual revenue of nearly 40 million yuan.
Meanwhile, the narcissus, which is one of the two mascots (the other one is magnolia) of the upcoming flower expo, enjoys a long history on Chongming.
Shi Hao, general manager of the Chongming Baiye Narcissus Cooperative, tells the China Flower and Horticulture magazine that his family has been planting flowers for four generations, and that the narcissus has been a popular flower on Chongming Island since the 1920s.
In 2009, Shi spent 300 million yuan to open a planting base for narcissus. The base has since grown to 33 hectares.
"Compared with my grandfather's generation, we have had a much better time. The government has provided us with good platform to grow the flower and develop our brand," he says.