Shanghai just loves to smell the coffee
Share - WeChat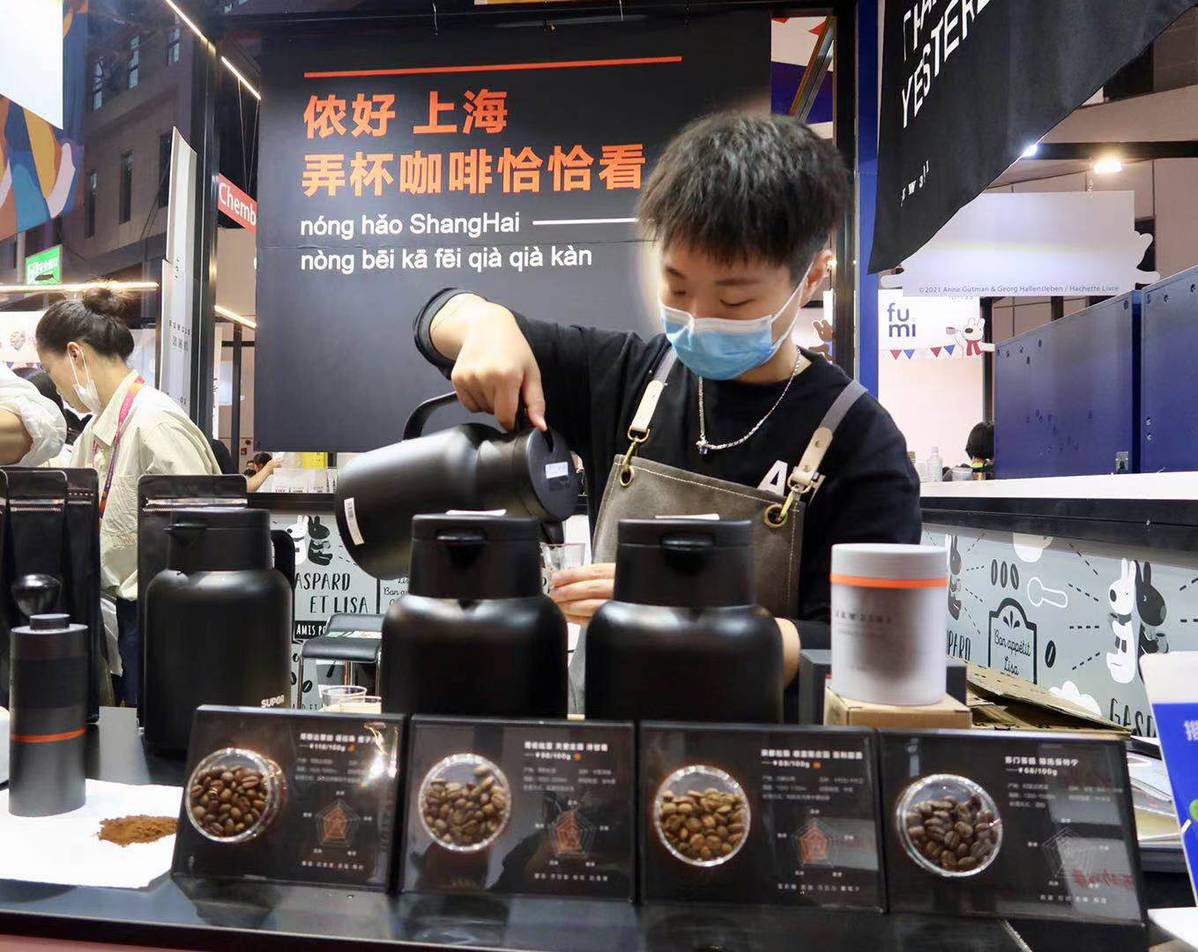 Shanghai outlets find winning blend
Starbucks Reserve Roastery
Launched in 2017, this 2,700-square-meter store in Jing'an district is located at 789 Nanjing West Road. It hosted the media conference for the Shanghai Coffee Culture Week, which ran from March 29 to April 11.
Besides serving classic coffee, creative drinks and more than 80 kinds of freshly baked bread, desserts and pizzas, it also operates as a factory.
The only one of its kind nationwide, it roasts nearly 2,000 metric tons of coffee beans annually. Customers can view the entire process, and the beans are packaged and delivered to other flagship Starbucks stores in China.
COFE+ Robot Coffee Kiosk
A robot coffee kiosk displayed at the recent 30th Shanghai International Hospitality Equipment and Foodservice Expo attracted visitors' attention and provided new possibilities for the coffee industry.
Debuting in Shanghai in 2019, about 10 robot kiosks have been launched across the city at shopping malls, office buildings, subway stations and industrial parks.
Intelligent and high-temperature disinfection is used to avoid bacteria and dust, and automatic operation and cleaning mean the kiosks can operate day and night.
Each kiosk occupies less than 2.5 square meters and provides two kinds of coffee beans and cup sizes, with each cup of coffee costing from 9.90 yuan to 15 yuan ($1.5 to $2.10).
In addition to fresh coffee, there are up to 50 other beverages to choose from, including Western milk tea, Japanese Matcha (green tea), and hot chocolate.
Qiao Coffee
Launched by local time-honored food company Qiaojiashan at the end of 2019, Qiao Coffee is a good example of the beverage blending with local culture.
Apart from its traditional dim sum fare, including shaomai, mung bean cake and steamed buns, the store sells various types of coffee such as cold brew, flat white and sweet fermented rice latte.
The first Qiao Coffee outlet is located in the Huaihai Building. The company opened a second branch on the West Bund last year.
Hinichijou Coffee
Also known as the Bear Paw Cafe, this establishment has no seats or tables and its storefront comprises nothing more than a gray wall with a hole, through which a furry bear paw interacts with customers by serving them coffee, patting them and posing for photos.
The store opened on Yongkang Road on Dec 3-International Day of People with Disabilities-and half its employees have disabilities.
Coffee costs 20 yuan a cup and is made by baristas, some of whom have been crowned coffee brewing champions at the National Professional Competition for People with Disabilities.
M Stand
A well-known specialty coffee in Shanghai, M Stand, which comes in edible cups made from oatmeal cookies, operates some 20 stores in Shanghai, where it launched in 2017.
M Stand desserts are also popular, especially its cement cheesecake, which resembles a piece of cement.
The company has received more than 100 million yuan in Series A funding and plans to open a total of 80 to 100 stores in Shanghai, Beijing, Guangzhou and Shenzhen, Guangdong province, this year.