Online literature plots overseas success
By Yang Yang | China Daily | Updated: 2021-12-27 08:38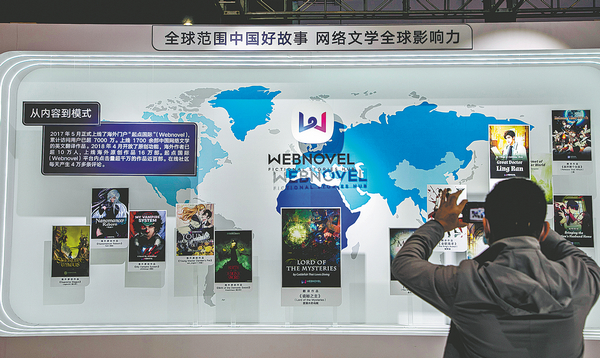 Webnovel, launched in May 2017, is the international version of Qidian, an online fiction website and application of Tencent's cultural business branch China Literature. Originally, it offered translated versions of popular Chinese online novels in English, and now there are also translations in Vietnamese, Hindi, Indonesian, Tagalog, and Malay.
In 2018, Webnovel launched platforms for authors. By June 2021, there had been more than 1,700 translation works from Chinese, and more than 280,000 works created by nearly 190,000 overseas writers from more than 200 countries and regions. Among the original works, about 100 have been hit over 10 million times by nearly 100 million cumulative users.
Among the overseas authors on Webnovel, women account for 57.8 percent, and Florence is one of them.
Inspired by popular Chinese "CEO novels" on the app, in which, usually, rich powerful men who are cold outside but passionate inside fall in love with Cinderellas, Florence wrote her first book, Handsome CEO's Darling Wife, a romantic comedy with drama, mystery and adventure.
In this story about self-respect and self-love, the characters are Chinese but it is set in Europe.
Now she has completed two books and is working on another two-Tangled by Fate and My Wife Is a Goddess: 99 Secret Kisses. As the number of readers grows every day, now she has about 164,200 readers on Webnovel.
"If Chinese online literature wants to develop prosperously overseas, a good way is to provide foreign readers with good translations of our best online novels, and another is to let more foreign writers join in the creation with our outstanding experience, model and system in the 20-year development of online literature," said Liu Jinlong, a popular writer pen-named Hu Shuo, in an interview with chinawriter.com.cn during the 10th National Congress of China Writers Association that closed on Dec 17.
Liu's online novel Chen Xi Yuan (Love and Destiny) was adapted into a TV series that was nominated at the 2020 International Emmy Award for telenovela.
"Since the reform and opening-up that started in 1978, new generations of Chinese online writers have had a broader international vision so that their works can be better accepted and recognized by overseas readers," Liu said.
According to the China Writers Association, by the end of 2020, more than 10,000 Chinese online literary works had been introduced overseas, covering most countries and regions around the world.
On Goodreads, the most popular Chinese online novels include Mo Dao Zu Shi (The Untamed), The Coiling Dragon, Yinian Yongheng (I'm Bai Xiaochun), Woyu Fengtian (I Shall Seal the Heavens), and Lord of the Mysteries, which are also very popular in China.
In terms of the genres of the translation works popular overseas, there are wuxia (martial arts), fantasy, sci-fi, among others. These works, while providing appealing stories that share universal values of human race, offer readers a glimpse of traditional Chinese culture and a modern China.
For example, among the most popular novels on Webnovel, Lord of the Mysteries combines elements of steampunk and Cthulhu Mythos; Library of Heaven's Path includes Chinese traditional culture that stresses respect for teachers and truth; Gourmet of Another World promotes Chinese traditional gourmet; The Legendary Mechanic creatively combines science fiction and computer gaming, creating a splendid astrospace and interstellar travels; Trial Marriage Husband: Need to Work Hard represents urban women's role in the family and workplace; The King's Avatar tells about the contemporary young people's "blood-burning "struggles; and Great Doctor Ling Ran shows China's urban views and medical development.
All these books are popular among overseas readers. Trial Marriage Husband, hit 346.4 million times with more than 73,000 comments, has been translated into Spanish, Indonesian and other languages besides English.
The Legendary Mechanic has been hit more than 40 million times, Lord of the Mysteries 25 million times with a rating mark of 4.8 points out of 5, Library of Heaven's Path 174.3 million times, and The King's Avatar 127.9 million times.