Walking the wild side
By Wang Qian | China Daily | Updated: 2022-11-24 08:39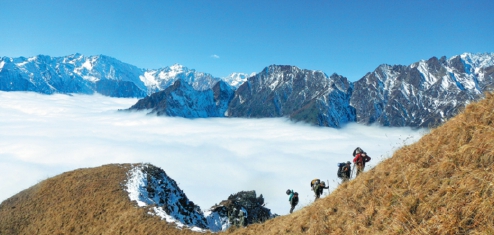 Challenging patrols
Building a "harmonious relationship "between wildlife and the locals has long been a part of the conservation work. Shi tried to educate communities and cooperate with nongovernmental organizations to provide employment opportunities for locals.
As threats from humans declined dramatically, rangers, like Shi, still have to face the merciless wrath of Mother Nature.
"Back then it was really difficult for rangers. With no proper outdoor equipment, like insulated jackets or sleeping bags, every patrol could be a life-threatening adventure," Shi recalls, adding that plastic woven bags were commonly used for warmth and as makeshift tents.
For Shi, the real challenges are natural disasters, which cannot be predicted.
He has a vivid memory about a snowslide in June 2017 during a routine patrol.
"We were about to climb over a 400-meter-long mountain pass, about 5,500 meters in altitude, which was the most dangerous place for rangers with snow depth on the ground reaching up to two meters and the wind blowing heavily," Shi recounts, adding that the pass usually takes patrollers more than two hours.
Through the dense fog, Shi and other 15 rangers could hardly see the person next to them. When a ranger tried to make sure everyone was following the team, he shouted: "Can anyone hear me? Is there anyone left behind? Follow up!"
The voice echoed in the mountain and shortly Shi heard thundering sounds and a mass of snow came tumbling down the mountain.
"Snowslide!" Shi shouted in warning, seeing "snow waves" rolling past him. Quickly throwing himself at rock and grabbing onto it, Shi survived but was injured.
"We learned the lesson — never shout at high altitude," Shi concludes.