Walking the wild side
By Wang Qian | China Daily | Updated: 2022-11-24 08:39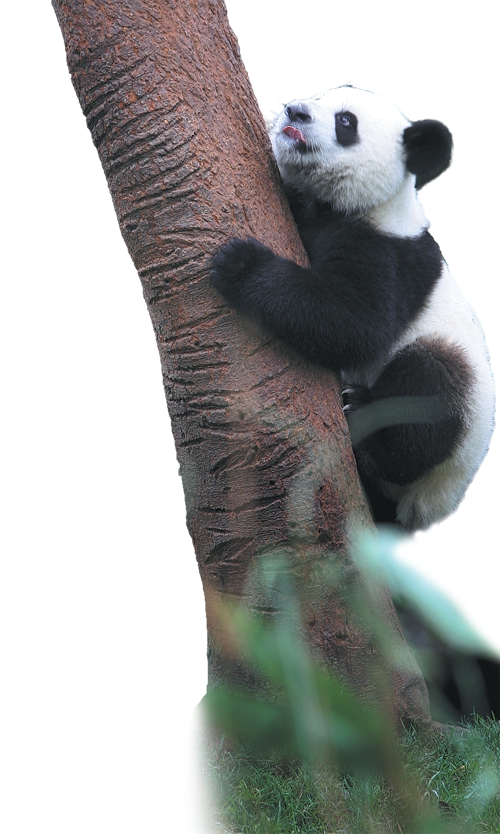 Bear in mind
There is a lot of hard work involved protecting wildlife, but there are also some perks to the job.
Shi has a soft spot for giant pandas. Although he has patrolled the reserve for three decades, he has only met the pandas twice.
"In 2004 and 2005, the National Forestry and Grassland Administration asked us to record videos of the wild giant pandas in the reserve. We searched for them for several days in the forest, but didn't spot one," Shi says, adding that he still remembers that the video camera he carried was quite heavy.
When they were about to give up, there was a sound from the bamboo forest behind.
"We turned around and saw a fat panda about six meters away, hiding in the woods. It ran quickly," Shi says, describing the scene like hide-and-seek. It was funny to see a group of people chasing the panda in the wild.
"I could almost touch his tail when getting close. When both parties got exhausted, rangers and the panda sat on the ground, staring at one another. The panda seemed to be saying 'you will never catch me'," Shi says with a smile.
The other time was a meeting with a "cute "panda cub sleeping on a branch, Shi recalls.
To better know and protect the giant pandas, the reserve's authorities launched a large-scale investigation into the number of wild giant pandas and their habitat in 2017.
"Through collection and analysis of DNA, it is estimated that Wolong has about 149 giant pandas living in the wild," Shi says, adding it is a "very good "result for the rangers.
So far, there have been more than 100 field observations and personnel patrols at Wolong, which are now equipped with modern equipment, such as infrared cameras and GPS trackers. Staff members, like Shi, are also working on improving the monitoring system for panda habitats and establishing a DNA database for the species.
In October last year, the Giant Panda National Park was established in Sichuan, Shaanxi and Gansu provinces, connecting giant panda habitats that originally belonged to 73 nature reserves. About 72 percent of the country's wild giant pandas are under the park's protection.
Nationwide, the population of wild giant pandas has increased from 1,114 in the 1980s to 1,864 today.