Restoration offers gateway to the past
By Lin Shujuan | China Daily | Updated: 2022-12-02 08:55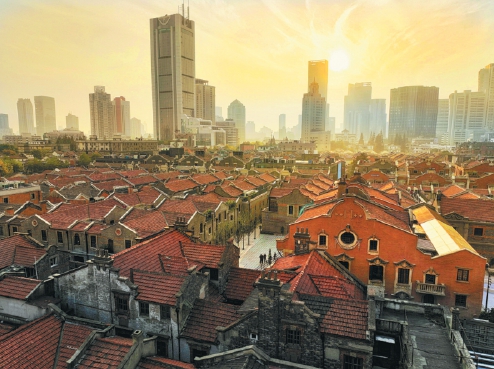 On Nov 25, Huang, a former resident who now lives in a neighborhood nearby, was invited to revisit the compound ahead of its reopening.
"Coming back here reminds me of my childhood when I used to jump rubber bands in the open space in front of this building," Huang says.
Huang talks in front of the building near the gate of Zhang Yuan on Weihai Road. The building now houses the largest flagship store of Vacheron Constantin in China.
Pointing to a nearby three-story building which is still undergoing renovations, she says: "We used to live there."
Huang's family, which consists of six members across three generations, used to live in a tiny room measuring just 38 square meters. There were 11 other households residing in the three-story building.
Life back then was difficult as residents lived in cramped spaces and had to share the kitchen and toilets, she recalls. But despite the harsh living conditions, Zhang Yuan was always better known for being a landmark adorned with intricate carvings on its stone gates, elegant curves on staircase railings and doorknobs made of crystal.
The compound was built in 1882 by Zhang Shuhe (1850-1919), a merchant from Wuxi in Jiangsu province. Zhang had bought a piece of farmland in Shanghai from a Briton named Francis Groom before building a garden home for his mother.
Zhang opened the garden to the public after his mother's death in 1885 and later built a Western-style mansion called Arcadia Hall, a place where people could enjoy a wide view of Shanghai. He also expanded the garden space to more than 4 hectares.
With the introduction of entertainment options such as a roller-coaster, circus performances and pleasure boats, Zhang Yuan quickly became a well-known public space and one of the few private gardens that were open to the public in Shanghai. Its other amenities included a dance hall, a theater for Chinese opera, a photography studio, a teahouse and restaurants.