Restoration offers gateway to the past
By Lin Shujuan | China Daily | Updated: 2022-12-02 08:55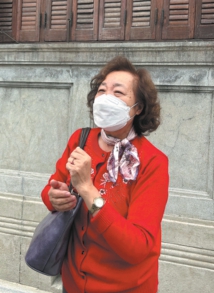 The creation of this database took more than three years, making Zhang Yuan the first in the country to record housing data in such a comprehensive manner. This practice has since been adopted for all urban renewal projects in Shanghai.
According to Shi, preserving the integrity of the architecture and even its fixtures was of the utmost importance.
"From the bricks to the tiles to the doors to even the mottled traces on the walls of the buildings, the renovation team tried their best to preserve or restore as much as possible," Shi says.
"But the buildings will ultimately be lifeless if they were just being restored and not utilized," Shi adds. "This is why we hope to inject new vitality to the compound and turn it into a new cultural landmark, open space and name card of the city."
According to the district's plans, all the houses in the compound will be restored and refurbished. Furthermore, underground spaces will be constructed, and a commercial compound spanning more than 150,000 square meters, along with a gallery, a boutique hotel and a high-end office compound, will be introduced.
"Zhang Yuan is set to become a place that offers modern amenities while allowing residents to reminisce about Shanghai's past," says Mo Liangjin, director of the publicity department of Jing'an district.
Huang Min says she could not wait to see how the building she used to live in now looks.
"It's really reassuring to see that the western compound has retained its original layout," Huang Min says.
"They have even left the nail holes on these wooden windows intact. They look exactly like how they used to," she says, referring to the windows of the building. "It is nice that they have retained these little details, many of which are etched in our memories."
Zhang Lin contributed to the story.