Restoration offers gateway to the past
By Lin Shujuan | China Daily | Updated: 2022-12-02 08:55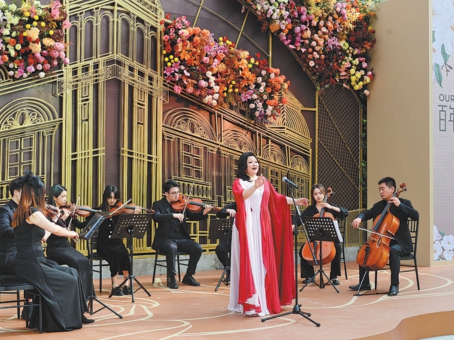 Before it became a residential compound in the 1920s, the location was dubbed "the No 1 public garden of Shanghai".
It was the place where the first electric lamp in China was lit, the first bicycle race in China took place, and where the country's first outdoor photo booth was opened. It was also the place where kung fu master Huo Yuanjia (1868-1910) challenged Western boxers so as to prove to the international community that Chinese were courageous fighters. Peking Opera maestro Mei Lanfang (1894-1961) also made his debut performance at a private event there.
In 1890, a Western performer took off from Zhang Yuan in a hot-air balloon before parachuting to the ground. This event was documented in the Oct 17 issue of the North China Herald. In the late 1900s, Arcadia Hall became a popular public speech venue that was graced by revolutionaries such as Sun Yat-sen (1866-1925), Huang Xing (1874-1916) and Cai Yuanpei (1868-1940).
The compound was closed down in 1918 after a period of decline and its land was eventually sold when Zhang died a year later. The new owner divided the land into 28 blocks and resold them to different developers that built a series of shikumen, which literally means "stone-framed gate", an architecture style that first appeared in Shanghai in the 1860s.
After the founding of the People's Republic of China in 1949, most of these residential buildings became State-owned, and the city assigned up to 10 households to each building.
Huang Min used to live across the street of Zhang Yuan. In the 1990s, her family moved to the compound after their neighborhood was relocated. By that time, Zhang Yuan was akin to a slum that was overcrowded with people who did not have access to proper toilets.
To conserve the heritage of Shanghai and improve the living conditions, the municipal government decided to relocate all the residents in 2018 and protect the buildings, according to Shi Yunlun, president of the Jing'an Real Estate Group, the State-owned enterprise responsible for the conservation and restoration of Zhang Yuan.
"Zhang Yuan is the first urban renewal project in Shanghai to implement a protective expropriation plan," Shi says. "Maintaining the cultural heritage and characteristics of the shikumen houses has been the top priority of this project."
According to Shi, the company had in 2015 established a database for the 170 residential units in the compound. Each unit has its own file, which consists of information such as the original house plan, adaptations through the years, architecture details, images from former residents, as well as protection and control suggestions for subsequent protection, repair and utilization. The house file for some units exceeds 400 pages.