The flow of knowledge
By Li Yingxue | CHINA DAILY | Updated: 2023-05-26 07:54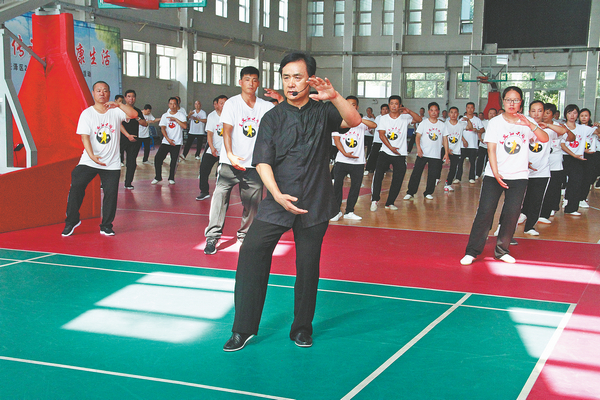 As an inheritor of multiple tai chi styles, Li Jianfang views it as his duty to pass on the traditions, techniques and profound culture of the martial art to future generations, Li Yingxue reports.
Whether it's under the moonlight, in a humble shelter, on lofty plateaus, or by the seashore, Li Jianfang has persistently practiced tai chi for decades with unwavering commitment.
He often reflects, "I may not remember a specific day when I practiced tai chi over these many years, but I certainly remember the days when I didn't."
Li, 66, a retired official, is the third-generation inheritor of Wang Qihe-style tai chi — a national intangible cultural heritage. He has been dedicated to practicing and spreading the martial art for over five decades. As well as teaching his students, he has been invited to various institutions and universities to give tai chi lectures and presentations.
"It is essential to preserve and pass down the correct traditional techniques, and it is crucial to identify and cultivate young enthusiasts of tai chi, nurturing their passion," Li says.
Wang Qihe (1889-1936), from Xingtai, Hebei province, dedicated himself to practicing multiple styles of martial arts, acquiring a wealth of skills and knowledge, later forming his own style of tai chi.
Wang Qihe-style tai chi includes two simplified routines with 13 and 24 forms respectively, two traditional routines with 84 and 108 forms and a dynamic, 38-form, fast-paced routine, as well as dedicated routines for saber, spear and sword.
For three generations of Wang Qihe-style tai chi inheritors, the transmission of knowledge and techniques has been conducted through one-on-one, hands-on instruction.
"This deliberate approach may have resulted in a slower dissemination, but it has effectively preserved the authenticity of the traditional methods in their purest form," Li says.
After decades of practice, Li thinks Wang Qihe-style tai chi is characterized by an authentic lineage, a systematic boxing theory, a moderate movement range and exquisite pugilistic techniques.
Li explains that in this style of tai chi boxing, the upper body is gracefully extended, exhibiting a harmonious balance between relaxation and tension, the techniques are precise and the lower body supplies great strength, maintaining stability while remaining agile.
"It encompasses various functions such as fitness, self-defense and personal cultivation," he says.