The flow of knowledge
By Li Yingxue | CHINA DAILY | Updated: 2023-05-26 07:54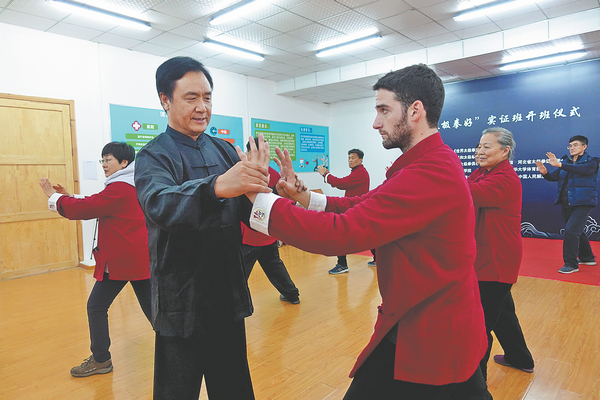 "In terms of technique, it emphasizes many subtle and refined aspects, including body posture, footwork, hand position, leg work, sharp vision, tactical strategies and, of course, spiritual cultivation. Every aspect is intricately interwoven with the precise and detailed principles of martial arts," Li adds.
Li was born in Ren county (now Renze district), in Xingtai, where Wang Qihe-style tai chi originated. He recalls that, in his hometown, many people practiced martial arts and they performed their skills on the street during festivals.
Liu Renhai, who was the senior disciple of Wang, was a popular figure at that time. At the age of 13, Li started to learn tai chi from Liu.
"At that time, I was just fascinated by the skills displayed by tai chi practitioners. Moreover, I had the opportunity to receive personal guidance from Liu Renhai himself. So, I dedicated myself wholeheartedly to learning the art, and became deeply engrossed in its practice. Since then, I have never stopped my training," Li says.
For over a decade, Li studied tai chi from Liu, who taught martial arts with unwavering patience and attention to detail. Whenever Li went to train, Liu showed no sign of impatience and Liu's wife would prepare meals for them.
Li recalls that just days before he passed away, at the age of 79, Liu could still push Li several meters effortlessly when teaching him tai chi.
"These experiences, day by day, subtly and gradually shaped me. Learning from him wasn't just about martial arts; it was about learning to be a better person," Li says.
Li has also learned from Wang Rongtang, Yao Jizu and Fu Zhongwen, all martial art masters.
As he improved his own tai chi skills, he gradually acquired his own students. His classes are made up of people from all walks of life, from grassroots workers to university professors, government officials, entrepreneurs and professional martial arts coaches. Regardless of profession, he holds them all in the same regard.
He primarily selects students based on two criteria: good character and genuine passion. "Finding a good teacher is challenging for students, but for a teacher, finding good students is even more difficult — it depends on fate," Li says.
Yang Wenyuan, 55, began practicing tai chi in 2010 with the aim of enhancing his overall well-being and physical fitness, in order to mitigate a demanding work schedule that was adversely affecting his health.
He started to learn Wang Qihe-style tai chi from Li in 2017 and, ever since, each year he will spend some time with Li to further his learning. He has also taken on his own students.
According to Yang, Li's proteges are spread across the country, but with the establishment of a WeChat group, communication has become more convenient.