The flow of knowledge
By Li Yingxue | CHINA DAILY | Updated: 2023-05-26 07:54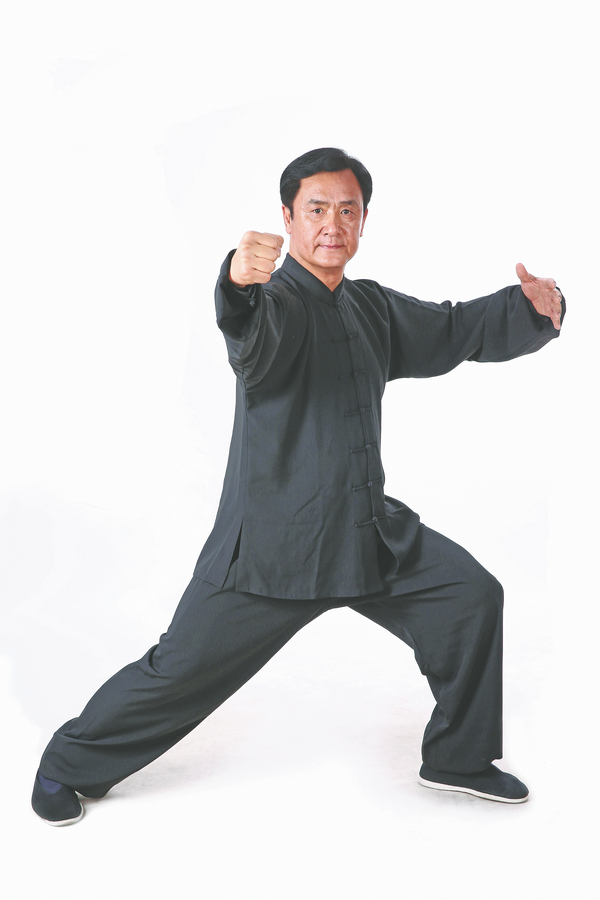 "We share our training videos with the master, and he provides us with dedicated and detailed feedback. Other students also benefit from the master's insightful comments, and the entire group encourages each other, creating a positive and conducive learning environment," he says.
Li notes that tai chi is an aerobic exercise, known for its relaxed, stable, slow and even movements. The guiding principle is to shape the body with the mind, seeking a harmonious balance between the internal and the external.
He says that the benefits of tai chi include strengthening muscles and bones, cultivating internal strength, maintaining the health of internal organs, encouraging blood flow, regulating and nurturing energy flow, and cultivating wisdom.
Once, Li visited the shores of Nam Co Lake in the Tibet autonomous region, located at an altitude of 5,000 meters. He began to experience symptoms of altitude sickness due to oxygen deprivation. However, by practicing tai chi there, he says he was able to alleviate the symptoms and overcome it.
"This remarkable experience further reinforced my unwavering belief in the miraculous effects of tai chi, which involves directing energy flow with the mind and harmonizing the body's meridians," he says.
In addition to tai chi, Li has other hobbies such as calligraphy and poetry, and he believes that all forms of culture are interconnected.
"While different cultures may have unique expressions, they share a common foundation in conveying the universality of human nature. This allows for the blending and integration of diverse disciplines," Li says.
He thinks tai chi is a profound and encompassing art, representing a broad spectrum of traditional cultural nourishment. "Incorporating the influence of tai chi culture can be highly beneficial, regardless of one's profession or artistic pursuits. Conversely, the practice of tai chi requires the enrichment of various cultural influences," he says.
For many years, Li has been passionate about calligraphy. He thinks that, similar to tai chi, calligraphy follows the principles of balance, harmony and coordinated movement.
Li has also composed 46 poems in the form of ancient-style seven-character verse, encapsulating the movements of the traditional routines in Wang Qihe-style tai chi. His concise and refined poetry format has attracted the interest of learners, researchers and poetry enthusiasts to the art of tai chi.
During his decadeslong career as a government official, he used his spare time to practice tai chi at home and in the workplace. It was only after his retirement in 2020 that he wholeheartedly devoted himself to the widespread dissemination of tai chi.
He was not alone. Li and his wife, Tan Xingmin, were neighbors in the same village, and they had both been practicing Wang Qihe-style tai chi since a young age. In recent years, this devoted couple has been actively engaged in promoting the martial art and striving to enhance its popularity. Tan is now the president of Hebei's Wang Qihe-style tai chi association.
Wang Qihe-style tai chi was inscribed on the national intangible cultural heritage list in November 2014.
In 2020, the art of tai chi was officially inscribed onto UNESCO's Representative List of the Intangible Cultural Heritage of Humanity. As an inheritor of three different tai chi styles — Yang-style, Wu-style and Wang Qihe-style — Li, along with his wife, actively participated in the application process and played a crucial role in organizing and preparing the necessary documentation, including written materials, images, and video recordings.
He thinks the development of tai chi is a holistic undertaking that requires support from the government, guidance from public opinion, research from academia, standardization within the industry, self-discipline among different schools of martial arts, and the commitment of its successors, all working in synergy.
"As inheritors of tai chi, we must shoulder our responsibilities, elevate our capabilities, and play our part effectively," he says.
Contact the writer at liyingxue@chinadaily.com.cn