A drink heritage to cherish
By Wang Kaihao | China Daily | Updated: 2023-09-19 07:52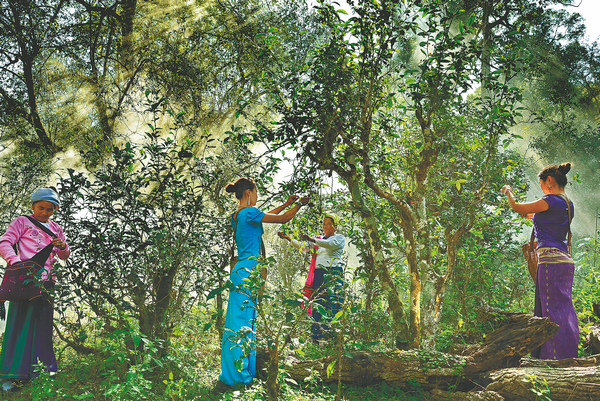 Rich legacies
It is estimated that over 1 million old tea trees grow in the approximately 72-square-kilometer core zone of the World Heritage Site, which includes nine traditional villages whose inhabitants are mainly from the Blang and Dai ethnic groups.
A book published in 864 during the Tang Dynasty (618-907) records that Pu'er Tea was widely planted in the region. However, people have reason to speculate that the tea-planting history of the area could be much longer, considering the fact that the world's oldest-known living tea tree, which is over 3,200-year-old, was discovered in Fengqing county, Lincang, about 300 kilometers from the Jingmai Mountain.
Between the 10th and 14th centuries, the ancestors of Blang and Dai residents came to the mountain.
Over the past 12 years, Chen Yaohua, director of the World Heritage Research Center of Peking University, has led environmental research programs to the Jingmai Mountain and was in charge of the World Heritage bid documentation. According to his investigations, about 10 percent of the tea trees on the mountain are at least 100 years old, and the oldest are over 300 years old.
He explains that the Qinghai-Tibet Plateau and the Hengduan Mountains block cold air from the north and increase rainfall, enabling tea plants to survive through many colder periods in present-day southwestern China, an origin of tea-growing.
"Traditional tea growing techniques can also be seen in places other than the Jingmai Mountain," Chen says. "However, similar landscapes elsewhere are usually fragmented, not on such a large scale and not as intact. Villages are often located away from the forest for more convenient transportation.
"So, when I first came here in 2011, it was like witnessing a miracle."
In recent decades due to the wave of urbanization, most tea-growing hubs have switched to standardized plantations on tablelands. In spite of the higher production, Chen points out that they are often vulnerable to tea diseases. Nonetheless, people in the Jingmai Mountain have ancient wisdom to prevent that problem. For example, there are three protective partition forests on the Jingmai Mountain to separate the tea fields. It has been historically forbidden to grow tea plants there. When disease breaks out in one field, people can set up a quarantine zone to minimize loss.
People also grow osmanthus and camphor trees among the plants, which not only helps keep off insects, but also creates special tea aromas.
"Like what we sing in one of our ancient ballads, 'everything comes from tea'," Su Guowen, an 80-year-old Blang elder in Mangjing village, says. "Our ancestors exchanged tea for clothes and tools, and used it as medicine to save lives. For most people, tea is a healthy drink. But for us living on the Jingmai Mountain, it is a bond of life."
As a retired teacher, he has spent the last 20 years studying and promoting the history and folk cultures of the Blang, and also helped draft a rule regulating villagers' behavior.
"It is forbidden to log high trees in the forest," one line in the rule says. "Violators must plead guilty in front of the tea ancestor and pay for a road to be built for the village."
"Traditional beliefs, governance, tea culture and ways to spread knowledge continue to thrive today," Chen explains. "They combine to safeguard the landscape of old tea forests in an intangible way."