A drink heritage to cherish
By Wang Kaihao | China Daily | Updated: 2023-09-19 07:52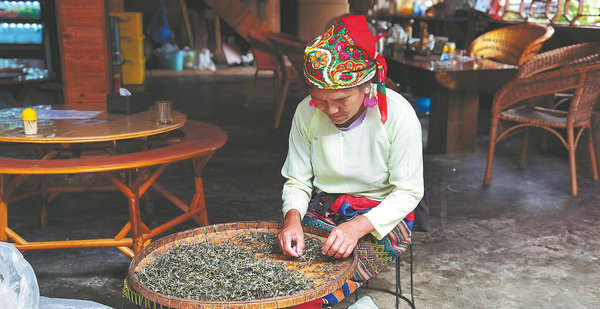 New concerns
While many young people in other rural areas pour into big cities looking for better jobs, this rarely happens on the Jingmai Mountain. People usually choose to stay due to the booming tea industry and growing tourism.
Wandering around the villages, tourists are easily touched by local hospitality, and are often invited to taste homemade tea for free.
Nonetheless, Chen from Peking University is also concerned whether this idyllic scenario will survive if the area gets overwhelmed by tourism. Gaining World Heritage status hardly ensures anonymity.
"The impact from the outside is inevitable," he says. "But we have to come up with ideas to face it."
Authorities have taken some measures. According to Zhang Piping, director of the Administration for the Conservation of Old Tea Forests of the Jingmai Mountain in Pu'er, no vehicle from the outside will be allowed into the heritage zone. Tourists need to take electric scooters to shuttle between the villages. More than 1,000 parking spaces have been built at the foot of the mountain about 13 km from the heritage zone.
A monitoring center remotely supervises the heritage site. Up to 3,300 visitors are allowed to enter the core zone of the heritage site each day.
"For us, gaining World Heritage status is only a start," he says. "It will be a long journey to better protect the forest in a long term."
Nan the storyteller is calm in the face of this possible tourist fad.
"None of our festivals or sacrificial ceremonies will be deliberately performed for tourism," he says. "We have to respect our ancestors."
No one is allowed to climb Peak Aileng, and Nan vows that rule will never change.
The words Pa Aileng said before he died have been chanted in the valley for centuries and seems to linger on.
"If I leave cattle for you, they may perish in disasters. If I leave treasure for you, you may squander it. So I only leave you tea trees. Our sons can make use of them forever. You have to protect them, as you do your own eyes. Never lose them."
Contact the writer at wangkaihao@chinadaily.com.cn