A drink heritage to cherish
By Wang Kaihao | China Daily | Updated: 2023-09-19 07:52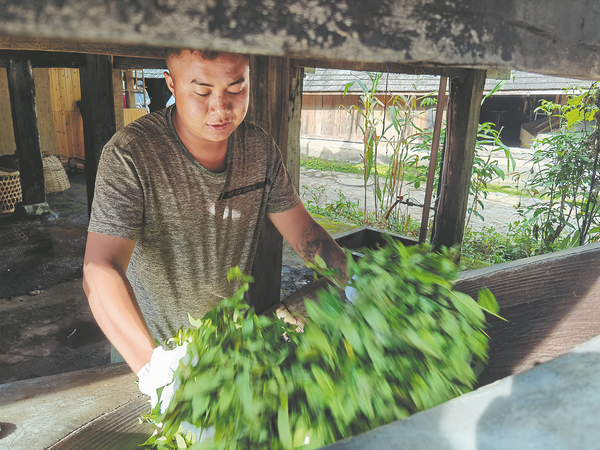 A promising outlook
Tea not only serves as a spiritual totem, but also as a key economic support.
Xiangong, a member of the Dai ethnic group, lives in Manggeng, a settlement attached to Jingmai village. Growing up in a tea-growing family, she once left the mountain to study at a polytechnic school in Chongqing. She decided to come back to take up the family career and established a tea-producing cooperative in 2010. Her family manages a 1.7-hectare tea forest, and 229 other families have joined the cooperative. Xiangong encourages them to attend tea expos and tries to catch every opportunity to promote her hometown on the market.
"When I got married, my mom gave me fine tea as a dowry," Xiangong, who is now 40, says. "Tea gives us a chance to better know the world and also gave me the chance to establish my own career. I didn't go to college, but this mountain is my college, inspiring me to explore tea cultures and traditions, and look back on our tradition."
All the tea is manually picked and processed. Xiangong reminds every picker to leave the spear untouched. Traditionally, people harvested tea three seasons a year. Now, they only do it for two seasons as a promise to conserve the nature of the World Heritage Site.
"The tea price is rising," she adds. "But it's not OK for the young generation to only focus on how much more money is earned. We need to keep in mind heritage and the duty of care, and to pass down the culture."
According to Hu Jianrong, deputy mayor of Pu'er, a kilogram of tea produced in the ancient forest of the Jingmai Mountain used to sell for about 500 yuan ($69) in 2010. As its fame rose following the bid to become a World Heritage Site, one kilo now sells for about 1,200 yuan and annual net income per capita rose to 20,300 yuan at the end of last year.
The government also spent about 87 million yuan to renovate old houses and improve infrastructure in the region to prepare for World Heritage Site status.
Aikan's home in Wengji, a settlement attached to Mangjing village, benefits from this program. Graduating from the Minzu University of China as a computer science major, he had the chance to switch to a bigcity lifestyle and leave his hometown behind.
But he came back in 2018, to run a cafe in Wengji.
"We live for tea, but we also need to find new ways to use tea and better embrace the future," Aikan, 29, says.
He uses tea as an ingredient in a series of products, including essential oils, facial masks and candles. Through his cafe, he also has a platform to promote local cuisine and handicrafts.
"Everything we make here is designed to better tell the story of this rainforest," he says. "It's meaningless to copy a city cafe here, like a protective shield made of concrete. By getting close to nature in our traditional dwellings, people can understand the Jingmai Mountain from a new perspective."