RMB ready for a decisive step of internationalization
By Louis Kuijs | chinadaily.com.cn | Updated: 2015-11-15 17:59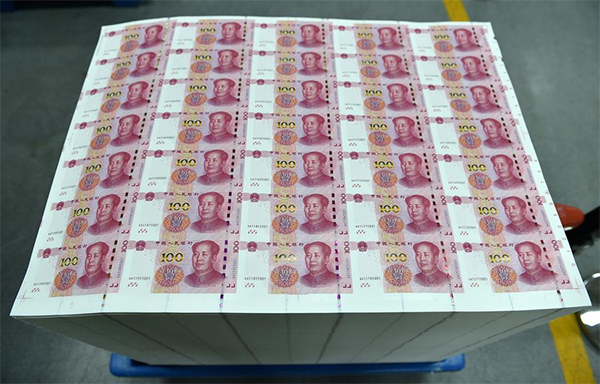 New 100-yuan notes wheeled out in the factory of China Banknote Printing and Minting Corporation, Oct 29. [Photo/Xinhua]
IMF staff said on Friday that the RMB fulfills all criteria and recommended its inclusion in the Fund's Special Drawing Rights(SDR).
This makes inclusion very likely, as all major IMF shareholders including the US have said they will support the staff's recommendation.
Inclusion confers international credibility. It will probably make central banks, sovereign wealth funds and other financial market participants more comfortable to hold RMB denominated assets, although this will happen gradually.
The market is likely to react favorably to the move on Monday and in the weeks ahead. The RMB is still influenced in a major way by policymakers, though, and this will not change overnight. Given that the RMB is somewhat overvalued at the moment and that net financial outflows have been large in recent months, policymakers are unlikely to let the currency appreciate in a major way against the US dollar. Instead, following the tentative signs of a turnaround in October, we may enter a period of rising foreign exchange reserves as the PBOC intervenes.
The exchange rate is likely to become gradually more flexible in the next couple of years. And the capital account is set to become more open to financial flows, especially if the favorable conditions on the foreign exchange market persist. This is a condition for further opening because we saw that pressure for large net financial outflows after the August exchange rate depreciation led to a tightening of policies with regard to financial outflows.
Within China, the move is set to be considered a victory for financial reformers and it should thus strengthen their case for continuing with economic reform. As long as those reforms are conducted cautiously and in the right sequence this should be good for China.
While SDR inclusion is an important milestone, it is not the end-game for the internationalization of the RMB. In the foreseeable future, China will have to continue convincing foreign institutions the benefits of holding RMB denominated assets. Against this backdrop, it's quite unlikely that the RMB will depreciate significantly after SDR inclusion.
SDR inclusion is a good thing for the global economy. It makes sense for the currency of the world's second largest economy be included in this basket, especially now that China's exchange rate is becoming increasingly used internationally and flexible and the capital account increasingly open.
It also shows China and other emerging markets that in some ways the existing international financial system is open to change, and open to newcomers - even as reform of the voting shares at the IMF board is held up by the US Congress.
Thus, it enhances the credibility and durability of the existing international financial architecture at a time of change in the global economic structure.
The author is head of Asia economics at Oxford Economics.