G20 should play a bigger role on long-term global governance
By Chua Chin Leng | chinadaily.com.cn | Updated: 2015-11-16 20:06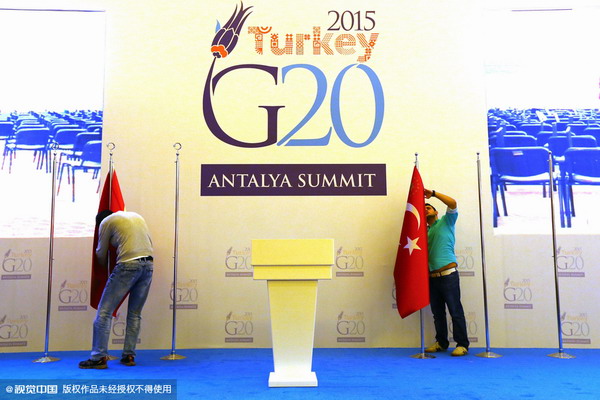 Final preparations are made ahead of the 2015 G20 Antalya summit, in Belek, Antalya, Nov 8, 2015. [Photo/CFP]
Despite of the anti-terrorism hype dominating this G20 summit, the world, especially the western nations, should also take China's suggestions seriously on the sluggish world economy and the transformation of G20 from a temporary organization to a long-term global governance system.
Besides, the Chinese model of redevelopment is relevant to the BRIC countries, including North Korea, Africa, the Middle Eastern and South East Asian countries. China's shift towards domestic consumption to drive growth is a natural progression from its export-oriented economy. This is only possible when there is a better distribution of wealth in the emergence of a middle class in the country.
The developing countries can study and apply the Chinese model of infrastructure development and building a manufacturing base to boost their productivity and export. This phase of development is essential to develop a middle class before moving on to a consumption base economy.
Agencies like the AIIB, Asian Development Bank or the IMF would make a difference in capital tight countries to help them develop infrastructure and other basic industries. This is a major area where the G20 countries can coordinate and put to practice going forward.
Currently, we see no clear and workable solution to the chaos of Syria and other Middle East countries. In other words, we have no clue to root out the terrorist threat once and for all other than the American strategy of military intervention.
The good news is China would host the G20 summit next year. And we expect China and the other participants to focus the agenda on economic issues and to offer a model or strategy to promote closer cooperation and growth in the world economy.
A more focus agenda in economics and governance would help to keep the participating leaders engaged and committed to the original mission of the G20 summit.