Who roots for China's "collapse"?
By Robert Lawrence Kuhn | chinadaily.com.cn | Updated: 2016-02-17 14:21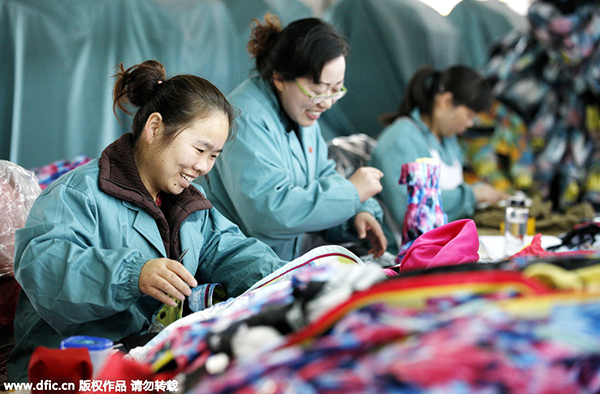 Workers manufacture garment that will be exported to the European Union in Huaibei city, Anhui province, Dec 8, 2015. [Photo/IC]
"China is taking over the world" was a casual remark by an American blue-collar worker, said in a resigned sort of way.

Robert Lawrence Kuhn
"I know something about China," I replied, "and China has serious problems." "That's good," he said. "That's not good," I responded. "Do you want to pay higher prices for lower quality goods?"
I described how the well-being of Americans is linked to China. Either we succeed together, increasing our mutual standards of living, or we suffer together. I can't say I made a convert but I think I undermined a stereotype.
I recalled the conversation when musing about the rash of the "China Collapse" speculations of late and why this cyclical and long-debunked claim has credence.
I analyze the "China Collapse" theory in three parts: What is the argument? Who are its advocates? Why does it resonate? I explain why the theory is either misconceived or underdetermined, and at best (worst?) categorized incorrectly, evolving issues under a simplistic, inflammatory title.
The "China Collapse" argument is that China's economy is facing a constellation of severe, debilitating forces: slowing growth, market volatilities, social imbalances, industrial overcapacity, excessive debt, rising wages, reduced competitiveness, overbuilt housing, unproductive infrastructure, massive pollution, insufficient state-owned enterprise reform—the list is not short.
These issues are real. Each one of the issues are the natural result of unprecedented economic development in a compressed period of time. But what follows? Each issue is being addressed, imperfectly of course, but in a coordinated manner. China's focus on innovation, entrepreneurship, science and technology, Made in China 2025,residency reforms to help migrant workers, and the like, are all part of China's 13th Five-Year Plan (2016-2020).When mistakes are made, such as tight circuit breakers on stock market volatility that fueled rather than doused anxiety, they are corrected rapidly.
What does "collapse" mean? In mid-2015, China's stock market "collapsed", as it were, but stability was restored (hopefully with lessons learned), and obviously the stock market continues on. Economics run in cycles, boom and bust, with peaks and troughs higher or lower. So those who predict "collapse", loosely defined, must be "correct" at some points in the cycle (much like a clock that has stopped working must be "correct" twice a day).