China's first cargo spacecraft completes docking with space lab
By Zhao Lei | chinadaily.com.cn | Updated: 2017-04-22 13:46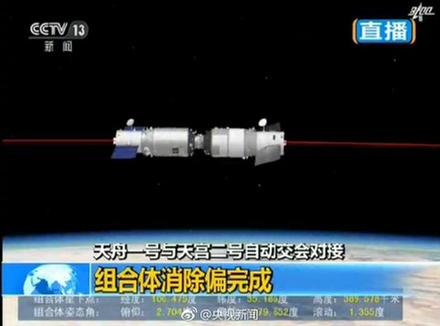 A screenshot from CCTV shows the procedure of Tianzhou 1 cargo spacecraft automated docking with Tiangong 2 space lab on April 22, 2017.
China's Tianzhou-1 cargo spacecraft conducted its first docking with the country's Tiangong II space laboratory on Saturday afternoon.
The rendezvous and docking process started at 10:02 am Saturday and was completed at 12:23 pm, according to the China Manned Space Agency.
Next, the two spacecraft will stay for about two months in the orbit nearly 380 kilometers above the Earth. During the period, Tianzhou-1 will resupply fuel to Tiangong II and will conduct scientific experiments, the agency said.
After the two months, the cargo spacecraft will undock with the space lab and then carry out the second docking. Then it will undock again and start a three-month independent flight before the third docking. After the third docking, Tianzhou-1 will depart from Tiangong II and will be directed by ground control to fall back to the Earth
Tianzhou-1, which is the country's largest and heaviest spacecraft, was lifted atop a Long March 7 carrier rocket on Thursday night at the Wenchang Space Launch Center in Hainan province.
Developed by the China Academy of Space Technology, it is 10.6 meters long and has a diameter of 3.35 meters. Its maximum takeoff weight is 13.5 metric tons, enabling it to carry up to 6.5 tons of supplies.
The main goals of the Tianzhou-1 mission are to supply fuel to Tiangong II and to test in-orbit refueling technologies, the manned space agency said.
In the future, the Tianzhou-series cargo spacecraft will be tasked with bringing supplies of fuel and other necessities to China's planned manned space station, which will start construction in 2018 and is expected to enter service by about 2022.
The station will consist of three parts — a core module attached to two space labs, each weighing about 20 tons — and will operate for at least 10 years, according to the agency.