Domestic airliner in final tests
By ZHU WENQIAN/WANG YU | China Daily | Updated: 2017-04-24 06:46
Nation's first passenger jet includes innovations beyond Boeing, Airbus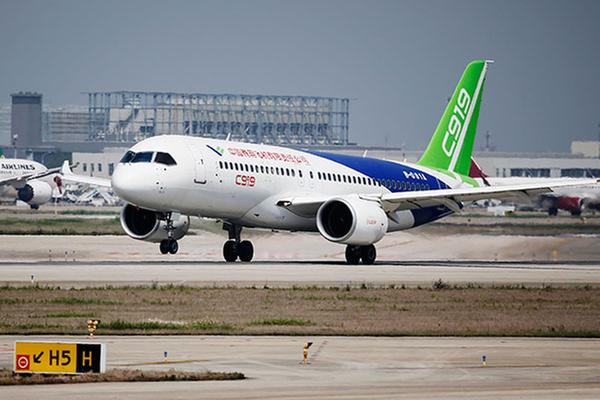 The C919, China's first domestically produced passenger jet, undergoes its fourth high-speed taxiing test in Shanghai on Sunday. YIN LIQIN/CHINA DAILY
The C919, the much-anticipated first commercial aircraft for passengers to be made in China, has taken another step closer to its maiden flight by completing its fourth high-speed taxiing test on Sunday in Shanghai.
It was the C919's first test with the front landing gear of the plane slightly lifted to simulate takeoff.
The single-aisle, 168-seat, twin-engine jet is now just one step away from its first flight, according to Shanghai-based Commercial Aircraft Corp of China, the State-owned manufacturer.
Also on Saturday, the C919 received a flight permit from the Civil Aviation Administration of China. It has acquired all the necessary certificates to prepare for its first flight.
Wang Yanan, editor-in-chief of Aerospace Knowledge magazine, said high-speed taxiing tests are usually conducted at speeds of 230 to 260 kilometers per hour. Judging from current progress, the C919 may need only a few more ground tests, if any, he said.
"Usually, every high-speed test on the ground will be conducted at a faster speed than the previous one, becoming increasingly similar to the real conditions of takeoff. It could be approved quickly if everything went right and no big technical faults occurred," Wang said.
Fu Qianshao, a researcher at an aviation magazine affiliated with the People's Liberation Army Air Force, said the airliner boasts a series of design and technology innovations based on in-depth research into its international counterparts-specifically Boeing's B737 and the Airbus A320.
For instance, the C919's front windshield consists of only four pieces, a design that is said to be more fuel efficient and stronger than designs with more panels.
"Do not underestimate the importance of windshield design," Fu said. "Compared with the Boeing 737's traditional six panels of windshield glass, it is a huge improvement when it comes to the strength of its body structure, air resistance and fuel efficiency."
Also, to accommodate more powerful turbofan engines, the C919's designers needed to strengthen the landing gear of the aircraft and make them taller.
The domestically manufactured plane, which uses a great deal of composite materials, is expected to be relatively light and fuel-efficient compared with its competitors, including the updated A320 and the new-generation B737, which currently dominate the market.
So far, COMAC had received 570 orders for the C919 from 23 clients, including domestic airlines such as Air China, China Southern, China Eastern, Hainan Airlines and Sichuan Airlines.
Overseas orders account for about 10 percent of the total, including airlines from Germany and Thailand, and others from the Asia Pacific region and Africa.