Chinese fighter swoops into world market
By Zhao Lei in Chengdu | China Daily | Updated: 2017-04-28 07:44
Orders for dual-seat version of existing jet placed even before maiden flight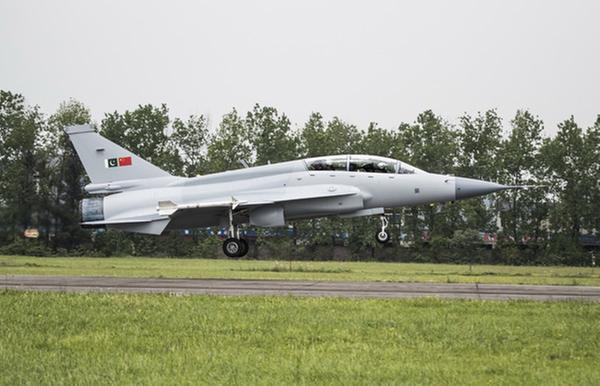 A dual-seat FC-1B trainer/fighter jet makes its maiden flight on Thursday in Chengdu, Sichuan province. [Provided to China Daily]
China conducted the maiden flight of its dual-seat FC-1B trainer/fighter jet on Thursday morning, aiming to seize a bigger share of the global military aircraft market.
The event took place at an airport of Chengdu Aircraft Industry Group, the maker of the plane and a subsidiary of Aviation Industry Corp of China. It was witnessed by AVIC executives, foreign guests and journalists.
The FC-1B, also known as the JF-17B, is the latest variant of the single-seat FC-1 fourth-generation multirole combat aircraft co-developed by Chengdu Aircraft Industry and Pakistan Aeronautical Complex, the leading aviation company in Pakistan. It was designed to meet the requirements of such planes from foreign clients and the international market, according to AVIC.
The State-owned aircraft giant said the aircraft is capable of not only training pilots but also engaging in aerial combat and striking ground targets.
Yang Ying, general manager of China National Aero-Technology Import and Export Corp, the trade wing of AVIC, said the FC-1B is one of the best trainer/fighter jets in the international market. It can carry beyond-visual-range air-to-air missiles, anti-ship cruise missiles and precision land-attack ammunition.
"Because of the FC-1's excellent service record and the new plane's good capability and competitive price, the FC-1B has received orders from the international market even before the maiden flight, which means our clients have a very high level of confidence in our development and production capacity," he said at a news conference in Chengdu after the maiden flight.
Yang Wei, chief designer of the FC-1 family at AVIC, said the plane that made the flight on Thursday has been ordered by a foreign buyer, indicating that such aircraft are badly needed in the market. Normally, clients would only accept mass-produced aircraft rather than those used in test flights, he said.
He said the FC-1B's design improvements are not limited to the addition of an extra seat to the single-seat FC-1. Many changes were required, such as the adjustment of the airframe. He said AVIC will continue to upgrade and design new variants of the FC-1 family.
Currently, Pakistan is the only confirmed user of the FC-1, with more than 80 aircraft delivered to the Pakistan Air Force, according to Pakistani media.
China and Pakistan signed a contract with an unidentified buyer at the 14th Dubai Airshow in November 2015. The identity of the buyer and the number of FC-1s involved remain undisclosed.
Earlier reports said that many nations including Myanmar, Nigeria and Saudi Arabia are interested in the FC-1 and its variants.
There are more than 30 foreign users of Chinese military aircraft in the world, according to Yang Ying, the manager.