Innovation lifts SOEs, Li says
By ZHANG YUE | China Daily | Updated: 2017-04-29 05:39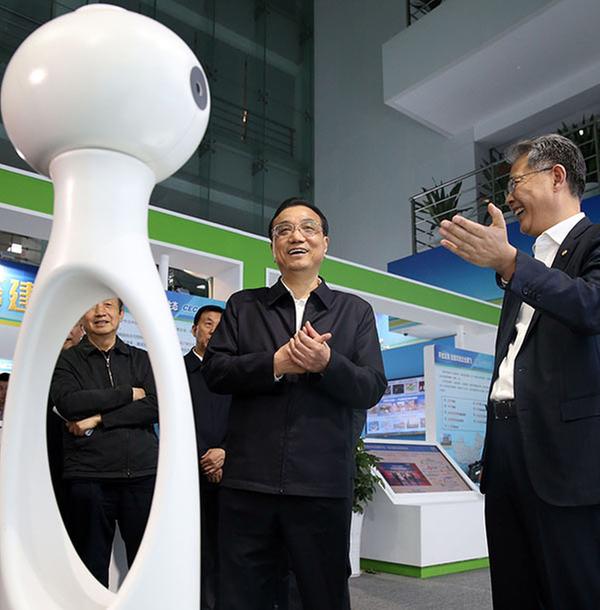 Premier Li Keqiang listens to information about a robot that uses biometric information to allow gate entry. Li attended an exhibition of innovative products in Beijing on Thursday. WU ZHIYI / CHINA DAILY
Premier advocates blending entrepreneurship and technology with industrial strength
Entrepreneurship and technological innovation have immensely contributed to sustaining the development of State-owned enterprises and will serve as their new growth engine through proper integration, Premier Li Keqiang said on Thursday.
Li also stressed that the government will improve SOE regulations and policies as much as possible to help unleash their growth potential.
The premier spoke while visiting an exhibition for innovative products made by SOEs at Hangxingyuan Science Park in Beijing on Thursday.
The exhibition displayed an array of top-tier innovative products from eight centrally administered SOEs, including China Mobile, Aviation Industry Corp of China and China Merchants Group. Most of these products were developed through innovation teams at SOEs.
China Aerospace Science and Industry Corp, one of the companies participating in the exhibition, now has more than 2,000 innovation groups inside the company.
By working with resources both inside and outside the firm, it has achieved technological breakthroughs and helped in creating jobs.
Li called the exhibition "spectacular" and praised the innovation efforts of SOEs in recent years, saying that properly integrating big SOEs and small innovation firms will lead to prosperity and create many new jobs.
Some products on display, such as smart locks from China Mobile for China's burgeoning bike-sharing industry, as well as robots developed by China Merchants Group that use biometric data to allow gate entry, have had success in the marketplace.
"Entrepreneurship and innovation are key to survival for small firms, and will lead to prosperity for large-scale enterprises," Li said, stressing that raising quality and efficiency is always key to the transformation of SOEs.
Li, who spoke Thursday at a conference on SOE innovation, stressed that centrally administered SOEs need to play a leading role in boosting the real economy through developing new economic drivers and upgrading old ones.
That will cause high-quality resources to be drawn to high-end industrial chains and nurture new technology. At the same time, combining new technology with the internet will drive a thorough transformation of traditional industries in terms of production, management and sales, he said.
Li emphasized that SOEs can no longer work in isolation to effect change, but need to be active in learning from one another and integrating resources, such as through the internet.
He encouraged enterprises to make full use of internet resources and figure out ways to work together with medium, small and micro-sized firms to build innovation through complementing each other's advantages, while creating more job opportunities.
China's SOEs made combined profits of 587 billion yuan ($85 billion) for January-March of this year, up 37.3 percent from the same period a year ago, the Ministry of Finance announced on Wednesday.