Exports helping to drive innovation at TISCO
By Ren Xiaojin in Beijing and Sun Ruisheng in Taiyuan | China Daily | Updated: 2017-05-02 07:16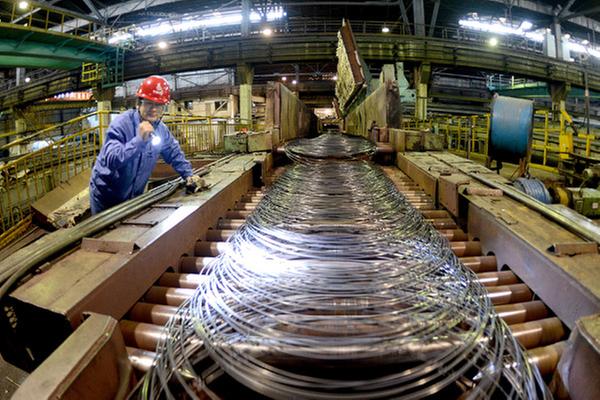 A technician at Taiyuan Iron and Steel (Group) Co monitors the production of stainless steel wire to ensure its quality. The steel will be used for pen tips. [Photo by Zhang Xuanyu / For China Daily]
Taiyuan Iron and Steel (Group) Co, known as TISCO, makes steel for many products - from pen tips to space-grade materials.
The company, based in Shanxi province, claims wide-ranging expertise in metals and sees itself as a leader in the process of industrial upgrading.
In the past, for example, Chinese bullet trains were largely dependent on imported materials and components. Recently, the company's steel has been used in axles for the 350-kilometer-per-hour trains, showing the enhanced independency on equipment manufacturing, the company told China Daily.
And it has developed a special variety of steel for Dongfeng missiles' shells, it said. In addition, it produces high-strength steels for use in the braking systems of commercial and military aircraft.
The company is also the exclusive provider of pure iron for electronic components and relays for Chinese spacecraft that must function in a vacuum.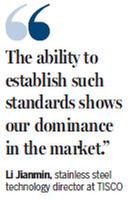 In 2016, three industrial standards developed by TISCO have been adopted and can be applied to 70 percent of the country's production. The standards cemented the company's leading role in the stainless steel industry, it said.
"A new industrial standard is an upgrade," said Li Jianmin, stainless steel technology director at TISCO. "The ability to establish such standards shows our dominance in the market."
Thanks in part to the company's innovation, sales of silicon steel products rose nearly 21 percent last year, in line with higher sales of high-quality stainless steel that find application in a variety of areas, the company said, from automobile exhaust systems and containers to nuclear power stations. Sales of duplex stainless steel in 2016 almost tripled from 2015.
Other research and development efforts gained momentum late last year when stainless steel exports increased by nearly 5 percent, the company said. Silicon steel is also one of the company's pillar products.
Like other Chinese companies that have gone global, TISCO also faced some challenges overseas. Late last year, it won an anti-dumping case against Turkey with regard to stainless steel exports - the fourth such legal victory.
"As a leading enterprise, TISCO has a responsibility to protect the legal rights of the Chinese stainless steel industry, and to enhance our position in international competition," said Zhang Hao, director of sales.
Amid fierce international competition, cross-border cooperation has showed some recent signs of harmony. TISCO became the first Chinese company to receive approval for stainless, silicon and carbon steels from India.
Contact the writers at renxiaojin@chinadaily.com.cn