Hungary on track to greater prosperity
By Fu Jing | China Daily | Updated: 2017-05-09 07:32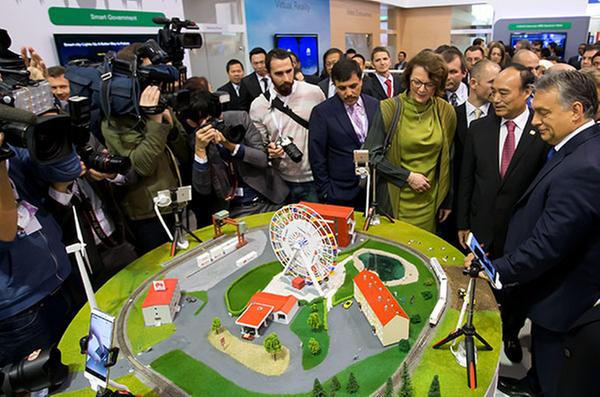 Hungarian Prime Minister Viktor Orban (far right) visits Huawei's booth at the ITU Telecom World 2015 in Budapest. ATTILA VOLGYI / XINHUA
The modernization of the rail link between Budapest and Belgrade is a flagship project and a prime investment target for Chinese companies. Fu Jing reports from Budapest.
Editor's note: This is the 10th in a series of reports focusing on the development of the Belt and Road Initiative, China's proposed trading route linking China and the rest of the world.

Chinese and Hungarian officials have confirmed that China's participation in the modernization of the 350-kilometer Budapest to Belgrade railway is progressing smoothly, and the European Commission is reviewing the design plan and financing arrangements.
"Both sides have signed a construction contract and a memorandum related to the financing plan. We are making efforts to start this crucial project as soon as possible," said Duan Jielong, China's ambassador to Hungary.
According to Duan, China will help make the railway a double-track line. The design of the Hungarian section is finished and the two countries have joined together to promote investment and implementation of the project.
Moreover, a Chinese construction company is ready to break ground on the Serbian section of the line, and sources in Serbia said the European Union may green light the project "very soon".
Regional connectivity
Peter Szijjarto, Hungary's minister of foreign affairs and trade, said the modernization of the Budapest-Belgrade line is a cooperation "flagship project" between China and the countries of Central and Eastern Europe. His country is actively promoting the project "because it involves the creation of a new model of cooperation in cross-border infrastructure investment, enhancing regional connectivity".
Szijjarto said the line is an integral part of the Belt and Road Initiative because it is a subsection of the China-Europe land-sea express route. He believes it could become the fastest, highest-capacity line connecting Piraeus Port in Greece with Western Europe.
He added that many countries undergoing industrial transformation will benefit from the line: "Similar to Hungary, countries along the way can connect with the China-Europe land-sea express route via industrial parks and logistics centers and, obviously, their products are exported to China."
From the beginning, Hungary welcomed the initiative as a unique opportunity to attract investment and new financing options for infrastructure projects in Central and Eastern Europe to improve connectivity.

"The Budapest-Belgrade railway is a significant project in this regard," Szijjarto said, adding that China is the priority country in Hungary's Opening to the East strategy, launched in 2010, and the Belt and Road Initiative fits well with the development blueprint.
The comments came ahead of Hungarian Prime Minister Viktor Orban's departure for Beijing, where he will attend the Belt and Road Initiative Forum at the weekend.
Szijjarto said Orban will also pay an official visit to Beijing, where he will have talks with President Xi Jinping and top legislators, and also meet with Premier Li Keqiang.
Under the framework of the Belt and Road Initiative, Szijjarto said Hungary has gained an increasingly important role as a regional financial center, promoting transactions in renminbi.
Ambassador Duan said economic and trade relations between the two countries have become closer since the initiative was implemented.
China is Hungary's biggest trading partner outside the European Union. Last year, against a backdrop of bleak global trade figures, the trade volume was $8.89 billion, a rise of more than 10 percent year-on-year.
Last year, Hungary's exports to China hit $3.46 billion, with year-on-year growth of 20.5 percent. The prospects are good for high-end agricultural and food products as a result of growing demand in China, according to Duan.
Hungary is China's biggest investment destination in Central and Eastern Europe, with combined investment surpassing $4 billion, he said, noting that Huawei, ZTE and Bank of China have joined about 40 other Chinese companies that have invested.
BYD, China's leading manufacturer of electric autos, is a newcomer in Hungary. Isbrand Ho, managing director of BYD Europe, said the company will invest about 20 million euros ($22 million) in a new plant near Budapest.
The investment will create 300 jobs, with the majority of new hires being local people with technical backgrounds who will assemble about 400 electric buses a year.
"The buses will be exported to customers across continental Europe," he said. "Initially, our output will be electric buses and coaches, but other products will soon follow."
Ho said many companies have signed agreements for projects along the routes of the initiative.
"BYD Europe, our customers, suppliers and other people will benefit from the improved connections," he said, adding that BYD is very conscious of Hungary's strong history of bus production.
With the Hungarian government trying to re-establish that industry, Ho said BYD is proud to be at the forefront and part of the endeavor. The company also expects to be a strong partner to help Hungary implement the electrification of public transportation.
"We anticipate a significant rise in sales of electric buses in Europe, and our new plant will improve our ability to meet our customers' needs," Ho said.
Contact the writer at fujing@chinadaily.com.cn