Classical play 'Art' to be staged in Beijing
By Li Ping | chinadaily.com.cn | Updated: 2017-05-09 14:03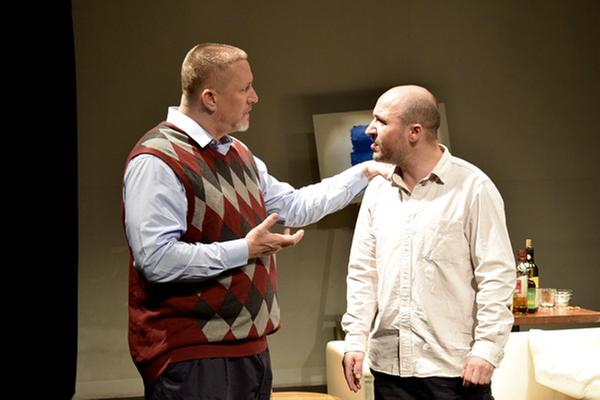 Gregory Joseph Allen (left) and Carlos Ottery (right) rehearse their parts in Art in Beijing, May 7, 2017. [Photo provided to chinadaily.com.cn]
Director and actor Gregory Joseph Allen signed on to direct Art as soon as he read the script.
"The brilliance of the play is in the magnificently crafted dialogue. It's both highly nuanced, and efficiently structured. No word is wasted, and no motivation left unexplored," Allen said during an interview with China Daily.
"It is a brilliant look into the complicated and ever changing nature of long lasting friendships, which is both thought-provoking and hilarious....If we, as a creative team, live up to the potential of the source material, it should make for a wonderful evening of theater for both the artist and audience," he said.
Allen plays Marc in Art, a role which is a "brutally honest advocate for all things that he believes to be true and right." Because of this, Marc bluntly spitted out his opinion and negative view on Serge's expensive art piece. Their friend Yvan, played by Carlos Ottery, attempted to calm down the two "without much success."
Carlos Ottery, a writer and actor of Beijing comedy This is Sanlitun, has hoped to put on Art in Beijing for years.
"I was supposed to be in a production of Art five years ago, but it fell through," he said.
"On the surface, the play is very much about that old question, 'what is art?' But I actually think it is more about friendship. There are certain really seriously nasty things you can say to a close long-term friend that you wouldn't dream of saying to someone you have just known for a year or two...The play really gets to the nub of that as much as it says anything about contemporary art."