This week, everyone gets a chance to say '520' to science
By Zhang Zhihao | China Daily | Updated: 2017-05-22 07:42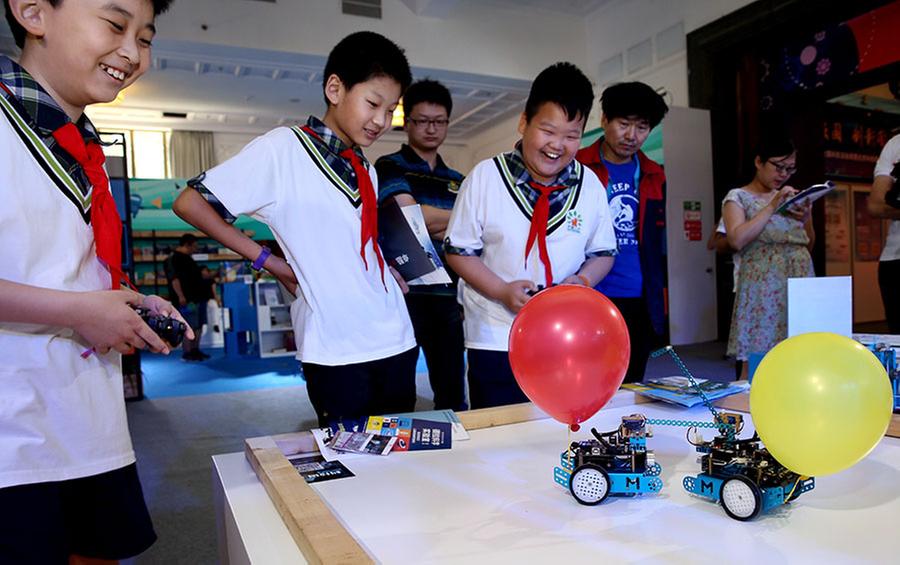 Students control robot combatants in an attempted to pop each other's balloons at the Cultural Palace of Nationalities in Beijing on Saturday as the 17th National Science Week began.[Photo/Xinhua]
From new underwater drones to preserved roses that have helped lift villagers out of poverty, China's newest technologies and their applications were showcased at the launch of the 17th National Science Week on Saturday in Beijing.
China also will open more than 3,000 universities and scientific facilities during the week for free tours. More than 500,000 visitors are expected to attend the 116 facilities founded by the Chinese Academy of Sciences alone, the academy said on Saturday.
"This year's theme is building a strong nation with science and fulfilling dreams with innovations," Vice-Premier Liu Yandong said at the Cultural Palace of Nationalities in Beijing, where some exhibitions are being held.
Science Week is the largest, longest and most participated in annual science event in China, she said. Since 2001, more than 1.5 billion people have participated in the extravaganza.
More than 260 exhibitions and 22 events will be held in the palace, covering five major fields including life science, new material, information technology, smart manufacturing and deep sea and space exploration, the event calendar says.
May 20, Saturday, also was the "day of love"-the pronunciation of "520" is a homophone for "I Love You" in Chinese.
"It is a great day for science lovers to interact and learn about technologies," said Gu Qingyi, a researcher at the academy's Institute of Automation. "As people are having fun, we hope they get interested in the science behind all the cool gadgets."