Comey says Trump fired him to undermine FBI Russia investigation
Updated: 2017-06-09 04:48
'LORDY, I HOPE THERE ARE TAPES'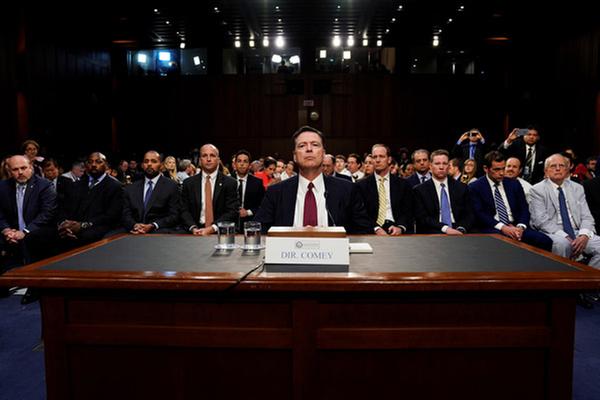 Former FBI Director James Comey testifies before a Senate Intelligence Committee hearing on Russia's alleged interference in the 2016 US presidential election on Capitol Hill in Washington, US, June 8, 2017. [Photo/Agencies]
Comey said he did not know if there were tapes of his conversations with Trump, but that if so, they should be released.
"Lordy, I hope there are tapes," Comey said.
Republicans on the committee questioned Comey intently but did not attack his integrity or try to treat him roughly, as a witness making accusations against a sitting Republican president might expect.
Comey testified he kept notes after meeting with Trump because "I was honestly concerned that he might lie about the nature of our meeting, and so I thought it really important to document."
From Capitol Hill to San Francisco's Castro district, Comey's appearance attracted television "watch parties" beckoning politics buffs to taverns, restaurants and living rooms to view an event some likened to the "Super Bowl of Washington."
US stocks closed slightly higher as the market reacted little to Comey's testimony, viewing his testimony alone as unlikely to mark the end of Trump's presidency.
Comey said Trump did not attempt to get him to drop the overall Russia investigation, just the part of if that related to Flynn, whom the president fired in February for misleading Vice President Mike Pence about the extent of his conversations last year with Kislyak.
Republican Senator Marco Rubio asked Comey whether he perceived the president's request to let the Flynn matter go as an order given Trump's position as president, the setting and the circumstances surrounding the conversation.
"Yes," Comey replied.
Laura Donohue, a Georgetown University Law Center professor, said if Trump fired Comey to change the course of the Russia investigation, that would constitute obstruction of justice.
Both the conversation between Trump and Comey about Flynn and the firing itself were obstructive acts, she said. "He wanted to scuttle the investigation - it is hard to see it any other way," she said.
Regarding Sessions, Comey said he did not discuss Trump's pressure to drop the probe into Flynn with the attorney general because the FBI leadership team believed Sessions would later recuse himself from the Russia probe.
"We were also aware of facts that I can't discuss in an open setting that would make his continued engagement in a Russia-related investigation problematic," Comey said, without giving more details.
The Justice Department later issued a statement saying that Sessions recused himself from the Russia probe only because he had been part of Trump's campaign.
Republican Senator Lindsey Graham said he did not believe Trump had committed a crime even if his personal style was often brash, adding: "I'll just say it, if being crude, rude and a bull in a china shop was a crime, Trump would get the death penalty."
REUTERS