New kung fu novel released
chinadaily.com.cn | Updated: 2017-06-09 09:46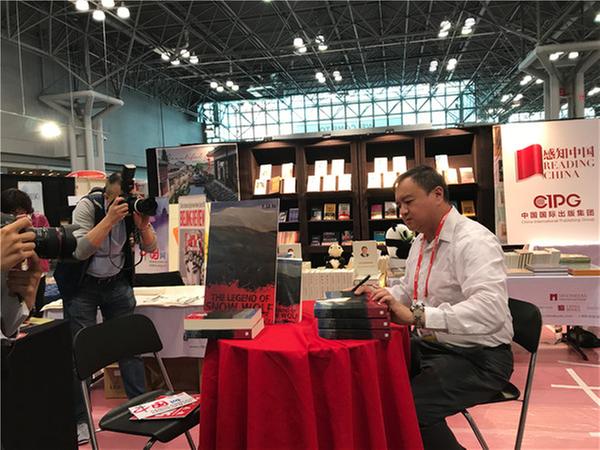 F. Lit Yu, author of the Legend of Snow Wolf, signs the book for the readers at the Book Expo held at the Javits Convention Center in New York on May 31. XIAO JIAQIAO / FOR CHINA DAILY
New York - Intrigue, romance, wandering warriors and amazing martial artists - the traditional elements of wuxia (martial arts) adventure fiction - have found a new outlet in English.
The Legend of Snow Wolf: Legacy Edition - an English-language martial arts epic - was launched on May 31 at the Book Expo held at the Javits Convention Center in New York.
Written by Chinese-American writer F. Lit Yu, the work was first published in 2012 and 2013 in two volumes. As one reviewer described it, "The Legend of Snow Wolf is to martial arts what Harry Potter is to sorcery."
The story takes place on the plains of Mongolia in the time of legends, when wolves and men fought for dominance of the steppe. Sochai, a young warrior, finds himself mysteriously poisoned. He will die a slow death unless he can find an antidote. All clues point to the goddess Snow Wolf, the once revered goddess and savior of her people.
Author Yu lives in New York City and works in the financial industry. He is an avid follower of Chinese martial arts, strategy and military history, and he describes himself as a writer who ended up in a bank.
"I needed more income to support the family," he said. "So when I came out of school, there wasn't money to shoot a big film, but it doesn't cost money to write a big book. So eventually I started writing while working to support the family."
He had been a fan of martial arts fiction since childhood, especially the novels of Jin Yong.
"I love the world of martial arts," he said. "It is balanced in terms of men and women, rich and poor, officials and common people. If your kung fu is good, you climb higher. It is another world, one we don't have now."