Traditional opera schools to tune up
By Wang Kaihao | China Daily | Updated: 2017-06-16 07:57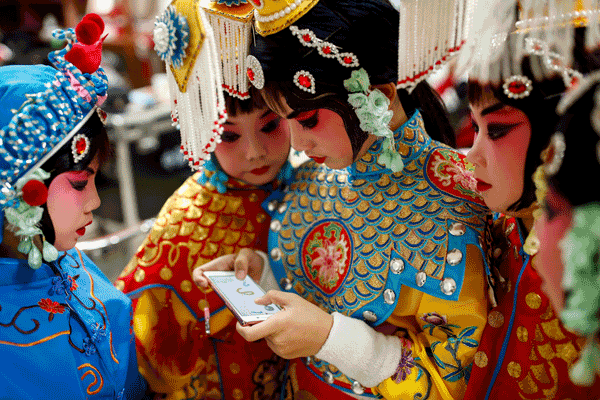 A performer plays a game on her phone as others watch during a break at a traditional Chinese opera competition at the National Academy of Chinese Theatre Arts in Beijing in November. Thomas Peter / Reuters
The Ministry of Culture has drawn up a script to revitalize traditional opera schools across the country.
"It's hard for many opera schools to enroll students, which reduces their educational quality. They are often bothered by shortages of money, and their graduates are unable to meet the actual needs of troupes in many cases," said Sun Ruofeng, director of the ministry's technical guidance office.
Under the new initiative, professional troupes will take part in daily training as well as enrollment of new students at opera schools, and opera students at the secondary vocational schools will not have to pay tuition.
"More fundraising channels will be created," Sun said. "A national evaluation platform will also be established to oversee educational quality."
New education models will help opera schools meet the needs of the job market, and there will be more training in some local opera genres.
The new training system is expected to be in place by 2020.
In May, the ministries of culture, education and finance, together with the publicity department of the Central Committee of the Communist Party of China, released guidance to strengthen training in traditional opera.
In addition, the Ministry of Culture has vowed to bring more traditional opera performances to rural areas, where it sees a large market.
"The repertoire of opera performances will be opened to the public in advance for feedback," said Zhang Yongxin, director of the ministry's public culture office. "We cannot just focus on how to serve the dish. Instead, we'd better let people choose the menu and let the government pay the bill."
Some provinces have succeeded in their attempts to revitalize traditional opera.
According to Ding Guangqing, deputy head of the cultural department of Anhui province, traditional opera performances are now on stage in each of the province's 15,000 villages at least once a year. Each performance costs the government at least 4,400 yuan ($648).
wangkaihao@chinadaily.com.cn