Space telescope launched
By Zhao Lei | China Daily | Updated: 2017-06-16 07:57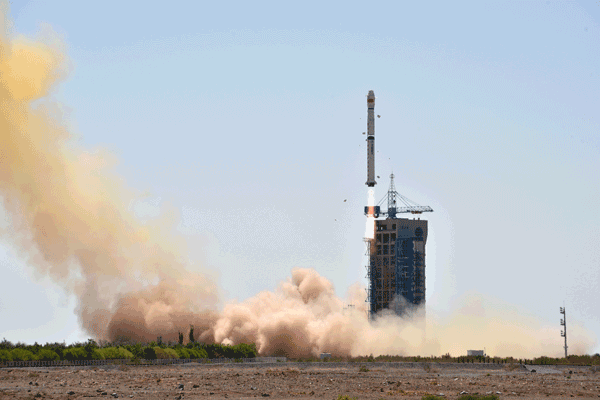 The Hard X-ray Modulation Telescope, atop a Long March 4B carrier rocket, is launched at the Jiuquan Satellite Launch Center on Thursday.Zhen Zhe / Xinhua
China's first X-ray observatory will focus on learning about black holes
The Hard X-ray Modulation Telescope, a cutting-edge space telescope that was launched on Thursday, will help scientists better understand the universe, according to project insiders.
The telescope, developed by the Chinese Academy of Sciences and China Academy of Space Technology, blasted off at 11 am on Thursday atop a Long March 4B carrier rocket at the Jiuquan Satellite Launch Center in Northwest China.
It is the nation's first space-based X-ray observatory. Weighing nearly 2.5 metric tons, the telescope is designed to work at least four years in a low-Earth orbit, about 550 kilometers above the ground, according to the State Administration of Science, Technology and Industry for National Defense, which oversees China's space programs.
The administration said the payload comprises four scientific devices: three X-ray telescopes and a space environmental detector.
Zhao Jian, a space program official, said the telescope will help scientists study the behavior of black holes and neutron stars, as well as X-ray radiation. It will also enable engineers to explore ways of using pulsars as benchmarks for new-generation space navigation technology they are developing for spacecraft, he said.
Ma Shijun, chief designer of the program, said that compared with other X-ray observatories in space, the Chinese model has a larger detection area, greater scientific capabilities and a wider field of view. These give it advantages in observing black holes and neutron stars that emit X-rays, and it can scan the Milky Way galaxy more efficiently, he said.
Zhang Shuangnan, lead scientist for the telescope and director of the Chinese Academy of Sciences' Key Laboratory of Particle Astrophysics, told Xinhua News Agency: "Our space telescope has unique capabilities to observe high-energy celestial bodies. We want to use it to resolve mysteries such as the evolution of black holes and the strong magnetic fields of neutron stars."
He said the observation of black holes will be the focus of the satellite's mission because scientists are most curious about what the black holes are doing.
So far, about 20 black holes have been found in the Milky Way.
"We hope our telescope can discover more black holes. We also hope to better observe the black holes already discovered," Zhang said.
China has launched three science satellites - the Dark Matter Particle Explorer; the Shijian 10, which experiments with microgravity; and the Micius, which conducts quantum experiments. The nation also plans to launch at least four science spacecraft - the China-Italy Electromagnetic Monitoring Experiment Satellite, China-France Oceanography Satellite, China-France Space Variable Objects Monitor and its first Mars probe, Zhao said.
Zhao said his administration will continue to push forward a number of space-based scientific programs, including the Solar Wind Magnetosphere Ionosphere Link Explorer, Water Cycle Observation Satellite and Einstein Probe, as well as the Magnetosphere, Ionosphere and Thermosphere Satellite Constellation.
In addition to the X-ray telescope, Thursday's launch also sent two small remote-sensing video satellites - OVS-1A and OVS-1B - into space.
The satellites, funded by the privately owned Zhuhai Orbita Control Engineering Co and developed by the China Academy of Space Technology, will mainly provide videos and images of Earth to government agencies.
zhaolei@chinadaily.com.cn