Sichuan cuisine brings new flavor to international cruise passengers
By Yang Feiyue | chinadaily.com.cn | Updated: 2017-06-20 15:35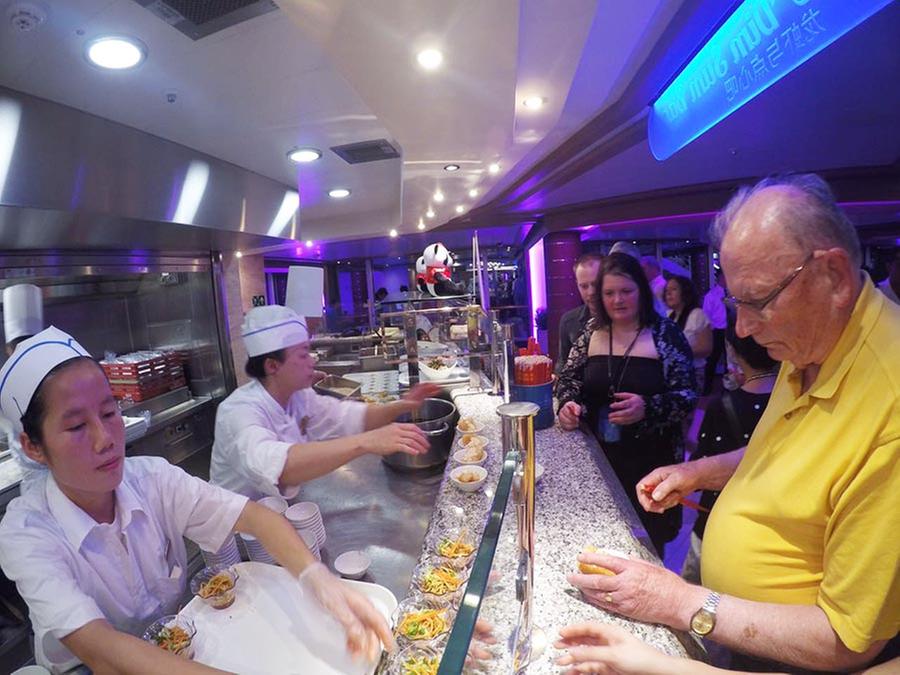 Passengers line up to get Sichuan snacks at the bar counter on the cruise ship Majestic Princess, June 19, 2017. [Yang Feiyue/China Daily]
Various Sichuan snacks and noodles are adding spice for passengers on the cruise ship Majestic Princess heading to China.
A total of 1,200 portions of traditional Sichuan cold noodles and glutinous rice with brown sugar syrup were snatched up yesterday by international tourists at the ship's night food market.
"We love the Sichuan food, the heat of the chili and the spicy," said Maureen Rosso from Australia.
Rosso is traveling with her husband and heading for Shanghai.
"We always try local, wherever we are. Since we're going to China, it's nice to enjoy the Chinese food here among the other foreign cuisines on the ship before our arrival," she said.
All of the Sichuan ingredients were selected and met the requirements for cooking Sichuan food, said Song Chaowei, who got on the ship on Friday.
Song has 17 years of cooking experience under his belt.
"We're especially happy that those foreigners enjoy our food and proud that we can represent our home food to global visitors," Song said.
In addition, classic Sichuan dishes, such as the Dongpo Pork, Shredded Pork with Fish Flavor and Twice Cooked Pork Belly, have all left a deep impression on passengers.
The Sichuan food preparation was part of the traditional Chinese arrangements organized by the Chinese People's Association for Friendship with Foreign Countries.
The purpose is to enable Western guests to better understand and savor Chinese culture and traditions.
The Majestic Princess departed from Rome on May 21 and is sailing across key Maritime Silk Road points, including Greece, the United Arab Emirates, India, Sri Lanka, Malaysia and Thailand, and will end its journey in China's Xiamen on Sunday.