Villagers come together to rebuild lives
By Luo Wangshu | China Daily | Updated: 2017-06-23 07:26
A year ago, a small county in East China was devastated by a tornado that destroyed lives and homes. Now, the local people are determined to forge a new future.
When a tornado struck Li Yuhong's kindergarten, the school head had no time to be scared.
"It all happened too quickly, in the blink of an eye. The children had just woken from their early afternoon naps, and the older children were using their coloring books, when, all of the sudden, the weather changed. In just a few moments, dark clouds spread across the sky as if it were night. The children and I had never seen such a thing before. They cried because they were scared," Li recalled, speaking almost a year after the disaster.
At 2:30 pm on June 23 last year, a tornado hit Funing and Sheyang, two densely populated suburbs of Yancheng, a city in the eastern province of Jiangsu, about 300 kilometers from Shanghai.
The twister left 99 people dead, and 875 hospitalized. More than 31,800 homes were destroyed, and the lives of 45,500 residents were shattered. The direct economic loss was about 5 billion yuan ($730 million), according to Wang Rongping, Yancheng's Party chief.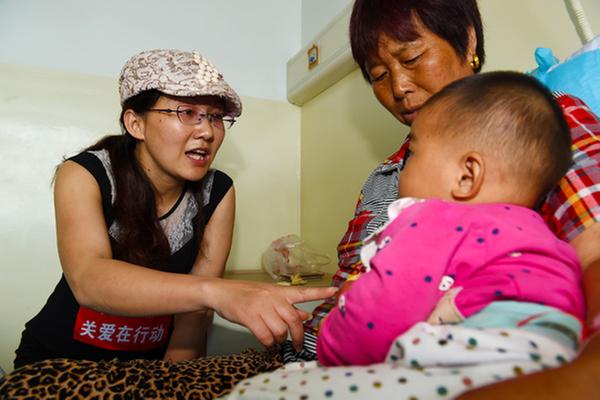 A psychological counselor in discussion with a resident of Funing county, Yancheng, Jiangsu province. CHINA DAILY
In the village of Shuangqiao in Funing, farms and factories were razed, and roofs were torn off countless buildings, including some at Li's school, the Nanwan Kindergarten.
"The classroom, desks and even the floor were shaking, so I told the students to lie under their desks in a prone position. One girl stood up and attempted to run to me-she was crying and shouting for her grandmother-but she couldn't even stand properly. Then, the roof of the building next door collapsed and tiles and bricks flew toward the back windows of the classroom. As I grabbed the girl and took her into my arms, a shard of glass sliced into my nose. The whole class was crying. I told the children to crawl towards me. We held hands and put our arms around each other," Li said, tearfully, trembling at the memory.
"We were so lucky. Sometimes, I can't stop wondering what would have happened if we had been on the playground-all the children would have been blown away. What if I had died in the tornado, like the mother of one of my students? The first anniversary of my death would be approaching," she said.
Time to heal
It takes time for adults to overcome the trauma caused by the tornado, but it's even harder for vulnerable children to put such a disaster behind them.
"It takes time, sometimes 2 to 3 years, for children to get through the shadow of a tragedy," said Yang Zhaobao, head of the Sunshine Psychological Health Center, a counseling facility in Funing.