Cable-maker paid out bribes in Xi'an subway scandal
By Hou Liqiang | China Daily | Updated: 2017-06-27 07:07
A company that manufactured substandard electrical cables used in subways in Xi'an, Shaanxi province, faked test reports for its product and bribed subway contractors and supervisory officials, according to a statement on Monday by the State Council, China's Cabinet.
Shaanxi Aokai Cable Co made only the first 15 meters on each end of the cables according to the required standards. It slimmed the long center sections of the cable to increase profit, the statement said.
"Most of the product didn't go through testing by quality authorities. The company practiced fraud and forged test reports by fabricating official seals," the statement said.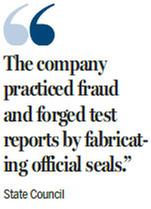 An online post in March by an unknown whistleblower, said bad cables had been used in Xi'an's Line 3. The line had been running since Nov 8. An investigation by the operator and city government confirmed that the electrical cables were substandard, and all of them were immediately replaced.
The bad cables did not affect subway operations or safety, the investigation found, but no details were given about what subway train systems were involved.
The State Council statement on Monday said the problematic cables were used for lighting and air conditioners.
Aokai bribed officials and subway contractors, and won the bid because price was the sole consideration, it said, adding: "Officials and employees of the contractors accepted bribes and colluded with Aokai, allowing the company to collect its own samples, send the samples for testing and receive the test report."
Malpractice by government departments, including the Shaanxi and Xi'an governments and quality watchdogs, is also to blame, the State Council said. "Information was not made public in a timely fashion after problems were found, and different government departments failed to cooperate well with each other."
In another statement released this month, the State Council said that a better bidding process for government procurement and an upgraded purchasing system are needed.
The cable incident has led to the punishment of 122 officials.
Names that have been published include Tang Hongbo, former deputy director of the Xi'an subway construction headquarters. Tang has been removed from that position, and from his position as executive deputy director of the Xi'an association for science and technology. He was also expelled from the Communist Party of China.
In addition, eight people from Aokai have been arrested, and 19 others - all of whom are employees of the Shaanxi branches of State-owned companies related to the incident - have been placed under investigation.