My family members - Long March carrier rocket series
By Guo Kai | chinadaily.com.cn | Updated: 2017-07-02 13:31
Notebook:
Hi, everyone, I'm Long March 5, or fatty guy as lots of my fans call me, the sole heavy-lift carrier rocket in China. I will send the Shijian 18 communications satellite into orbit on my second flight.
I'm proud to say that I'm handsome and powerful. I come from the great Long March rocket family developed since 1956.
My family members have sent hundreds of satellites and other spacecrafts into space. We have sent Chinese astronauts into space and will help the country to build its space station.
Here, I'd like to introduce some of my family members.
First, myself!

Long March 5 – the mightiest and most technologically advanced one, so far…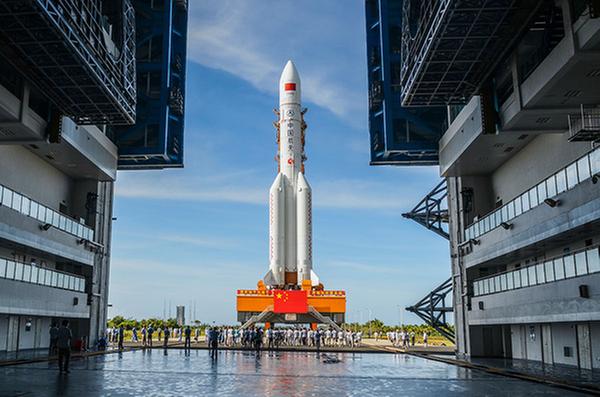 A Long March 5-Y2 rocket is seen at the Wenchang Space Launch Center in Hainan province on June 26, 2017. [Photo by Wei Jinghua/For China Daily]
I'm 57 meters tall with a core diameter of 5 meters, two core stages and four boosters. My liftoff weight reached 870 metric tons, having a maximum payload of 25 tons to low Earth orbit (LEO), and 14 tons to geosynchronous transfer orbit.
The propellants are liquid oxygen with kerosene, and liquid oxygen with liquid hydrogen, which means I'm environmentally friendly.
In my maiden flight in November, I sent the Shijian 17 scientific experiment satellite and a Yuanzheng 2 upper stage into space.
For the third mission, later this year, I will send the Chang'e 5 lunar probe to the moon. In the future, I will put China's manned space station into orbit and send unmanned probes to Mars.