The other all-in-one app
By He Wei in Shanghai | China Daily | Updated: 2017-07-03 07:54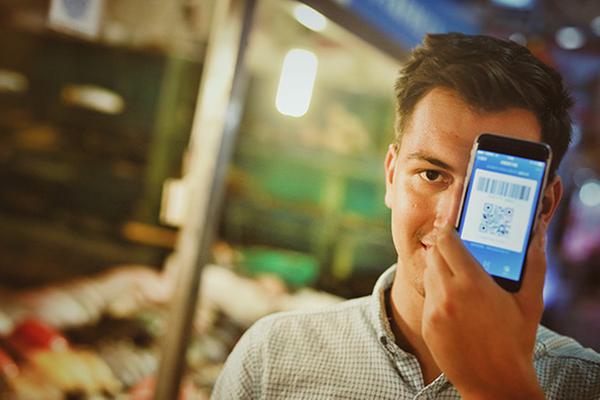 An international student from Romania uses Alipay app on his mobile phone at a store in Beijing. [Photo provided to China Daily]
Late-mover advantage, or how innovative newcomers outperform pioneers, is what propelled Alipay toward the pinnacle of mobile payments and related digital services in China. Now, Alipay is expanding globally, unfolding a saga of success breeding more success.
At the turn of the 21st century, China had no entrenched credit card culture. Smaller online businesses with relatively low sales volumes were unable or unwilling to accept credit card payments due to high transaction fees. It was too costly to build their own fraud-proof e-checkout systems.
To address this dilemma, Alibaba, whose online marketplace Taobao was growing rapidly, launched Alipay in 2004. It designed Alipay to be Paypal-like, an online payment tool and escrow provider.
Today, people see it as the avant-garde in mobile payments. But Alipay has gone beyond online payments into unchartered e-waters. For 450 million users, the Alipay app is a gateway to a wide array of functions, from options to buy wealth management products to booking medical services.
More than a decade after its founding in 1999, Alibaba established a financial affiliate, Ant Financial, to consolidate all such e-services under one roof. Users can connect to Yu'Ebao, the first internet-based money market fund, that helps them to earn higher yields on their idle cash. It is much more convenient than banks.
Alipay also evaluates customers' shopping and spending habits to figure out their creditworthiness. Consumption patterns captured by Alipay translate into "Sesame Credit" scores, which offer certain benefits to consumers, like deposit-free services on bike-rentals to skipping long lines at the hospital.
Alipay is now an internet-based finance major, a one-stop portal for all types of payment solutions, said Ni Xingjun, vice-head of Alipay. "From scanning QR codes to accessing bank loans, we see ourselves in the driver's seat in payment and financial services."
The app is ranked as the top third-party payment provider with around 55 percent of domestic market share, followed by archrival WeChat Pay's 37 percent, according to iResearch.
Li Chao, a senior analyst at iResearch, said Alipay is a good choice to make big-ticket purchases and for asset management services.
One of Alipay's latest endeavors is a pathway to its sister app Ant Fortune, on which third-party financial institutions can set up virtual shops and post content to lure customers. The pathway is another sign that Alipay is seeking supremacy in the burgeoning online finance sector.
Civic services have also gone virtual, thanks to Alipay. For Chinese people, traffic fines, remote medical diagnosis, marriage pre-registration, income tax filings, doctor appointments and utility bill payments... now need no more than a tap or a code scan on Alipay.
Zhejiang, among the wealthiest provinces, is home to Alipay. It is keen to embrace digital channels so that citizens do not have to run an errand "for no more than once", said Chen Guangsheng, the provincial government's vice-secretary-general.
Citizens can access the platform via Alipay. Combining location-based services with the payment function, Alipay guides users through its "City Service" that aggregates civic affairs, and redirects them to respective online pages to fill out information and make e-payments.
Alipay is rapidly expanding overseas as a growing number of shopping-happy middle-class Chinese travel abroad to snap up products from luxury bags to high-end watches.
The payment tool is accepted at more than 120,000 merchants, including high-end shopping malls such as Harrods and Printemps, both magnets for Chinese consumers.
To serve wealthier Chinese buyers, Alipay introduced its payment services at 10 major international airports in Germany, Japan and New Zealand. Departure tax refunds processed by Alipay were also made available in 23 countries.
Alipay also signed a deal this May with US payment processing firm First Data that will allow its service to be used at points-of-sale of more than 4 million retail partners in the country.
Also in May, Carnival Corp's first and largest brand in China, the Costa Cruises, said it will give passengers the option to use their existing Alipay accounts as a payment method for cabin folios.
All onboard spending, including shopping, leisure activities, excursions, food and drinks, will be added to each guest's cabin folio when the purchase is made, and then cleared on a nightly basis via their Alipay account.
The company has a vision to serve 2 billion global customers in the next decade, with more than 60 percent of users from outside the Chinese mainland, according to Douglas Feagin, senior vice-president of Ant Financial.