SF gets OK to use drones for air deliveries
By Fan Feifei | China Daily | Updated: 2017-07-04 08:22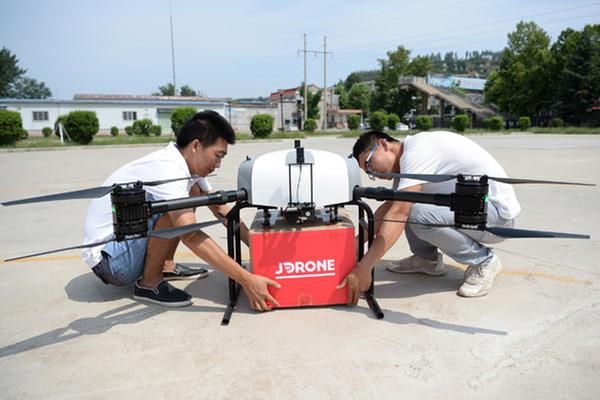 Staff from JD.com Inc attach a package to a drone in Xi'an, capital of Shaanxi province. [Photo/Xinhua]
Leading delivery company SF Holding Ltd said it has obtained a landmark license from the military authorities to use drones to deliver commercial packages and was conducting the country's first drone pilot demonstration zone.
The airspace application made by SF, and the government of Nankang district in the city of Ganzhou, was approved by the Eastern Theater Command, one of the five national military commands.
The flying range covers five counties in Nankang district and Ganzhou city in Jiangxi province. The first pilot flight, in the first pilot demonstration zone, was conducted last Thursday.
SF said it has launched several types of drones for delivery services, with a maximum load capacity of 25 kilograms and flying distance of 100 kilometers.
SF has invested in a smart distribution logistics and drone delivery system, and has taken out 151 patents. It established a specialized drone R&D and business operations system.
Zhao Xiaomin, a logistics market consultant in Shanghai, said SF will expand its drone delivery services to third and fourth-tier cities, and some undeveloped and remote regions, to build an air transportation network.
JD.com Inc, China's second-biggest e-commerce player, has been developing drone deliveries to meet the rising retail demand in China's rural areas.
Last year, JD successfully used drones to deliver online purchases to rural shoppers in Jiangsu province, kicking off the e-commerce giant's use of unmanned aircraft for last-mile distribution.
In November, it finished its first drone delivery in Xi'an, the capital of Shaanxi province. On June 18 it began using drones to regularly deliver packages in Xi'an. The company said that 40 delivery drone routes have been designed to deliver online purchases to shoppers in the area.
The company has also built a drone R&D center in the city-which is focusing on operating middle and large-sized drones with loads of 200 kg to two metric tons-in order to cut storage costs.
JD also said it will build 150 operation sites for a drone delivery in Sichuan. Liu Qiangdong, its CEO, said the operation sites are expected to open in three years and drone deliveries could help reduce the freight costs by 70 percent.
JD said it strictly complied with the laws and regulations of the country, and each of the delivery tasks was carried out after obtaining authorization from the air traffic control department, to ensure the safety of each flight.
Pan Xuefei, a senior analyst at market research firm IDC, said the application of drones in delivery services are just at an initial stage.
"We still need time to see large-scale application," Pan said, adding that drones were mainly used to improve delivery efficiency in remote mountainous areas and sparsely populated areas.
Chai Hua contributed to this story.