Spreading its wings
By Chen Nan | China Daily | Updated: 2017-07-08 07:33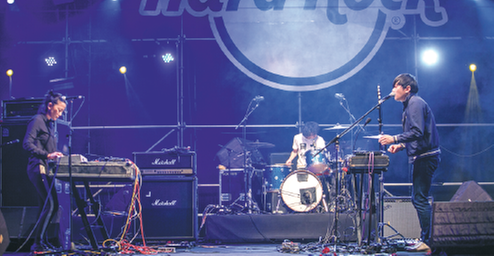 Re-TROS, short for Rebuilding the Rights of Statues, is a post-punk rock band based in Beijing, which was founded by Hua Dong in 2003.[Photo provided to China Daily]
A 12-minute single from the album, At MOSP Here, was released early this year.
One of the key forces behind the band's international expansion is Modern Sky, China's biggest indie music label, which Re-TROS signed with in 2005.
This March, Shen Lihui, the founder of Modern Sky, announced the launch of Modern Sky UK in Liverpool in collaboration with David Pichilingi, who has over 25 years experience in the international music business, and is the founder of Sound City.
The UK venture is the second overseas office of Modern Sky.
In 2006, the label opened its first overseas office in New York.
Pichilingi, who was very impressed by the Chinese artists at the Modern Sky and Strawberry Music festivals held in Beijing in 2016, says: "The diversity is strong."
Speaking about the band's forays abroad, Hua says: "The overseas events are massive opportunities for Chinese bands to be seen by audiences worldwide. For Re-TROS, we want to have regular tours abroad, such as to the UK and the United States, which will enable us to keep a constant link with our fans abroad."