First direct flight route between China, Portugal inaugurated in Lisbon
Xinhua | Updated: 2017-07-12 14:41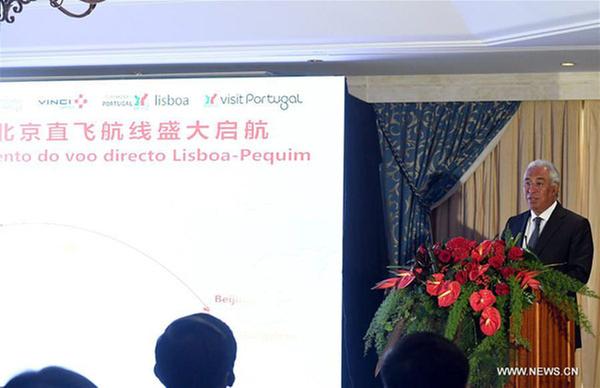 Portuguese Prime Minister Antonio Costa speaks at the inauguration ceremony for the first direct flight route between Portugal and China in Lisbon, Portugal, on July 11, 2017. [Photo/Xinhua]
LISBON - The first direct flight route between Portugal and China was inaugurated in Lisbon on Tuesday, linking Hangzhou to Lisbon via Beijing.
The first direct flight route starting from Hangzhou, capital city of Zhejiang Province, with a stopover in Beijing before heading for the destination in Lisbon will be carried out by an A330-20 on July 25. There are three flights between Portugal and China per week.
Meanwhile, the new flight route from Beijing to Macao will also be opened by Beijing Capital Airlines.
Portuguese Prime Minister Antonio Costa said that the opening of the first direct flight route between Portugal and China is significant for the two countries as it is part of the Belt and Road Initiative proposed by China in 2013.
It will promote tourism and trade between Portugal and China and the cultural communication between the two peoples, he added.
Costa said that the new flight route will also strengthen the role of the bridge Portugal plays in the connection with China and the Portuguese-speaking countries. It will make the travel between China and Brazil and also Africa much easier.
The opening of such a flight route is the result of the efforts made by the two governments and will further promote tourism of the two countries. Some 200,000 Chinese tourist arrivals in Portugal were recorded last year.