White House Senior Advisor Kushner admits to four Russian meetings, denies collusion
Xinhua | Updated: 2017-07-25 08:58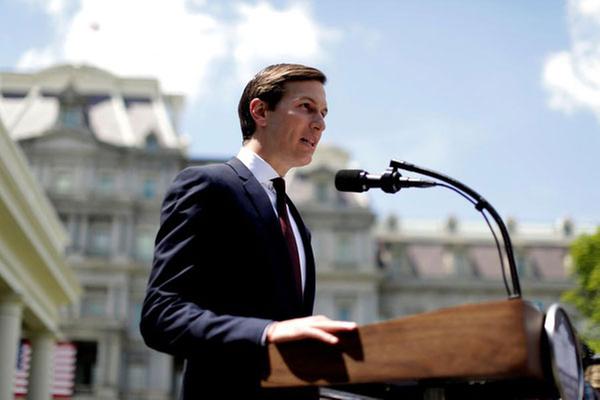 Senior Adviser to the President Jared Kushner speaks outside the West Wing of the White House in Washington, US, July 24, 2017. [Photo/Agencies]
WASHINGTON - White House Senior Advisor Jared Kushner on Monday denied having colluded with the Russian government despite four meetings with Russian nationals during the campaign and the transition period.
"I did not collude, nor know of anyone else in the campaign who colluded, with any foreign government," Kushner said in a 11-page statement.
"I had no improper contacts. I have not relied on Russian funds to finance my business activities in the private sector," the son-in-law of US President Donald Trump said.
Kushner said he first met with former Russian Ambassador to the United States Sergey Kislyak in April 2016 at a Trump speech in Washington, where he exchanged pleasantries and business cards with four ambassadors.
Kushner does not name the other three ambassadors he met at the meetings.
"Each exchange lasted less than a minute," Kushner said.
The second meeting, in June 2016, was set up by Donald Trump Jr. and involved a Russian lawyer who was said to possess damaging information on Trump's rival Hillary Clinton.
Kushner said conversations in the meetings focused on a ban on US adoptions of Russian children and was "a waste of time."
"I had not met the attorney before the meeting nor spoken with her since," he said.
Kushner said his first Russia meeting after election occurred on Dec 1, 2016, when he met with Kislyak in Trump Tower NYC to discuss future US-Russian ties.
Former National Security Advisor Michael Flynn attended the meeting.
Both sides agreed to discuss in depth such issues as the Syrian crisis after inauguration for a lack of secure communication channels at the time, according to Kushner.
Kushner said he then met with Russian banker Sergey Gorkov on Dec 13 at the request of Kislyak, during which no specific policies nor business involving Kushner's companies were discussed.
Kushner said he agreed to the meeting after learning Gorkov had "direct relationship" with Russian President Vladimir Putin.
"I have nothing to hide," he said.
The statement was released before his close-door testimony before the Senate Intelligence Committee.
Kushner is due to appear in front of the House Intelligence committee Tuesday for a similar hearing.
In a separate hearing, Trump's eldest son Donald Trump Jr. and Trump's former campaign manager Paul Manafort will appear before the Senate Committee on the Judiciary Wednesday to answer questions regarding their ties with Russia.
The questionings are parts of an ongoing investigation to determine whether Trump's campaign colluded with Russia, an accusation Trump and members of his inner circles repeatedly denied.