Random decision puts country girl on the right track
By Hou Liqiang in Beijing and Zhou Lihua in Wuhan | China Daily | Updated: 2017-08-23 08:02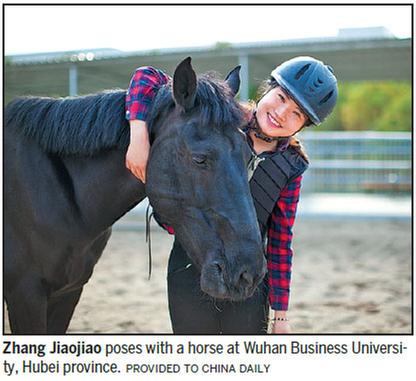 Zhang Jiaojiao had never seen a horse in real life before she began to major in equestrianism.
In fact, she chose the major at Wuhan Business University completely at random after scoring poorly in the national college entrance exam in 2014.
"My hometown is in a rural area in Danjiangkou, Hubei province. People there know nothing about the subject, and think it's about protecting horses from illness, which is embarrassing," said Zhang, 21.
She recalled that when her family held a banquet to celebrate her admission to university, her parents asked her to say she was majoring in sports to avoid being laughed at.
Though teachers described the major as not only high-end, but also promising, she failed to take an interest until she got a chance to ride a horse.
"Previously, I had only seen them on TV. It was amazing when I sat on a horse for the first time. It's not like a dog or a cat. You need to communicate with a horse with your heart to make it understand you," she said.
For freshmen, there are no practical courses with horses, but Zhang found a way to interact with the animals by becoming the only female volunteer to clean the stable.
"Every day, after finishing my classes, I went to clean the stable. Afterward, I sat quietly watching students in higher grades riding, hoping they would let me ride for a short while," she said.
After cleaning the stable every day for six months, her perseverance finally paid off when some senior students decided to share their riding time with her. But in return she had to wash and brush the horse and take it back to its stall. It was worth the trouble, she said.
Zhang started a WeChat account with students from two other universities studying the same major to share articles about horses. The first article they published has been viewed about 100,000 times, she said.
"Not many people take such majors. All the people who do are like family members and will discuss any topic about horses for a long time," she said.
Zhang said she is now proud of her major as equestrianism graduates are sought after and all her classmates got job offers long before graduation.
She accepted a job offer from an online platform that involves e-commerce and horse industry information in December.
"Instead of doing something that enabled direct contact with horses, I chose to do something behind the scenes," she said. "You have to do a lot of preparation before you ride a horse and you need promotion to increase awareness. This is important for the industry's development. And this is what I am doing."