Boys from fight club in Chengdu are sent home
By Huang Zhiling in Chengdu | China Daily | Updated: 2017-08-25 08:05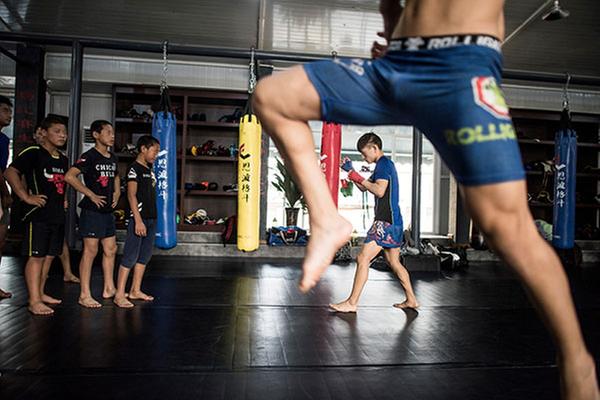 Youngsters practice mixed martial arts at the Enbo MMA Club in June in Chengdu, Sichuan province.[Fred Dufour/For China Daily]
Video of children being trained to fight triggers move by officials
Government authorities in the Liangshan Yi autonomous prefecture in Sichuan province are bringing 19 children back to their home counties from a fight club in Chengdu.
The children, who are either orphans or "left-behind" children whose parents work outside their home villages, will attend primary and high schools in their home counties of Butuo and Yuexi when the new school term starts in September.
"Local governments in both counties will ensure that schools will admit them," said Song Ming, an information officer for the prefecture.
The move to bring the children back to Liangshan originated with an online video of two 14-year-old boys from Butuo in a mixed martial arts ring at the Enbo MMA Club in Chengdu in July, he said. The video was widely shared online.
The boys said in the video that they had been "adopted" by the club's owner and occasionally performed in commercial events.
Although the training was hard, they did not have to worry about food, clothes or shelter at the club, where they were given beef and eggs. In their home village, they could eat only potatoes, they said.
Some viewers thought the club could teach the children skills to support themselves in the future, while others accused the club of exploitation and depriving them of access to an education.
Liangshan officials launched an investigation, and child-welfare and education officials from the prefecture were sent to the club, whose owners claimed to have adopted and trained about 400 children since 2001.
The investigation found that the club had no teaching certification and had not signed any agreement with a civil affairs bureau to adopt the children.
Netizens expressed their concern for the future of the children. Qumu Ermu, an official with the Yuexi county government, said the 17 children who were sent back from the club to their home county of Yuexi will attend school in September.
Each orphan in the county receives a monthly subsidy of 748 yuan ($112) from the government. In addition to a subsistence allowance, a child from an extremely poor family is entitled to an additional monthly subsidy of 200 yuan, he said
Liangshan, the largest enclave of ethnic Yi people in China, is one of the least-developed areas in Sichuan. Some media reports have associated it with poverty, drugs and AIDS.
As governments at different levels put poverty alleviation high on their work agenda, the living standards and education in the prefecture have greatly improved. But it is a shame that some media reports still distort the image of the prefecture, Song said.